Faith Box #03: The When the Roses Bloomed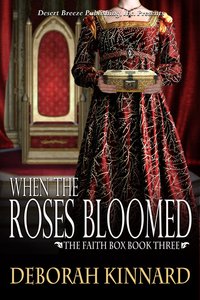 Margery and Robert are betrothed since childhood. Their fathers back different factions in the Wars of the Roses, but what is this to them? After the Battle of Bosworth, Robert and his father fight for the losing side. Margery's anxious father breaks the betrothal and the youngsters escape by night. Though they cannot save Robert's father, Margery insists they must hide Robert. With a plan to pass as servants, they seek safe haven in London. A poor couple must cope with many distresses. They hover on the brink of survival until they find shelter with a sympathetic relative. Brother Thomas arranges them to go into the service of a very highborn lady. In Elizabeth of York's kindness they find safe haven. But she is betrothed to the new king, Henry Tudor, whom no-one knows. What will he do to the couple whose only crime was to back the wrong ruler?

- Publisher
You May Also Be Interested In
About "Faith Box #03: The When the Roses Bloomed"
Margery and Robert are betrothed since childhood. Their fathers back different factions in the Wars of the Roses, but what is this to them? After the Battle of Bosworth, Robert and his father fight for the losing side. Margery's anxious father breaks the betrothal and the youngsters escape by night. Though they cannot save Robert's father, Margery insists they must hide Robert. With a plan to pass as servants, they seek safe haven in London. A poor couple must cope with many distresses. They hover on the brink of survival until they find shelter with a sympathetic relative. Brother Thomas arranges them to go into the service of a very highborn lady. In Elizabeth of York's kindness they find safe haven. But she is betrothed to the new king, Henry Tudor, whom no-one knows. What will he do to the couple whose only crime was to back the wrong ruler?
- Publisher


Meet the Author
Deborah Kinnard
Deborah Kinnard started writing at age ten, frustrated because there was no preteen girl with a horse on 'Bonanza'. From there she progressed to short stories and really bad poetry.In college, she gained two degrees in health care and spent time observing hippies, basketball stars, el-ed majors and other strange species.While raising two active girls and cherishing a husband, she enjoyed a career that has encompassed Spanish translation, volunteer work at a crisis line, years in assorted ERs that don't resemble the one on TV, and a day job at a big Chicago teaching hospital.She's a member of American Christian Fiction Writers, serving as Midwest Zone Director, and confesses to being a loud singer at church. In 2002 and 2003, she sold her first and second novels, POWERLINE and OAKWOOD to Treble Heart Books. ANGEL WITH A RAY GUN was released in 2006, 'Something Borrowed' in the BRIDES AND BOUQUETS 2007 anthology, and MY SILENT HEART in November 2007, all by ByGrace Publishing. SEASONS IN THE MIST will release in spring 2010 from Sheaf House Publishing.When Deb's not at the computer writing, she keeps busy with reading, playing the guitar, and needlework. She loves to travel and meet new people, some of whom turn up later in her stories. So if you meet a short woman with a light in her eye...