Faith Like Potatoes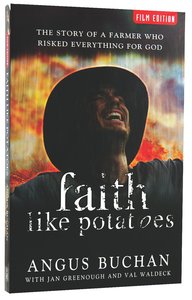 $14.99
$11.99
You Save: $3.00 (20%)
Paperback
Angus Buchan is a straight-talking South African farmer of Scottish extraction. His abrupt conversion startled friends of the explosive hard-drinking man. Angus' bold faith has carried him through droughts, family tragedies and financial crisis. He has seen wonderful miracles of provision and healing.

In obedience to God's call he started preaching, which led into a healing ministry. He has also set up an AIDS orphanage and a 500-seat auditorium on his land. Still a farmer, he is now an international evangelist, travelling through Africa in a refitted yellow fire engine, and filling the largest venues in South Africa. He has visited Scotland several times in recent years on speaking tours. In July 2006 he undertakes a UK-wide tour.


- Publisher
You May Also Be Interested In
This item is in the following kit
About "Faith Like Potatoes"
Angus Buchan is a straight-talking South African farmer of Scottish extraction. His abrupt conversion startled friends of the explosive hard-drinking man. Angus' bold faith has carried him through droughts, family tragedies and financial crisis. He has seen wonderful miracles of provision and healing.

In obedience to God's call he started preaching, which led into a healing ministry. He has also set up an AIDS orphanage and a 500-seat auditorium on his land. Still a farmer, he is now an international evangelist, travelling through Africa in a refitted yellow fire engine, and filling the largest venues in South Africa. He has visited Scotland several times in recent years on speaking tours. In July 2006 he undertakes a UK-wide tour.

- Publisher


Meet the Authors
Angus Buchan
In 1976, political upheaval in Zambia forced hard-driving Angus Buchan (born 1947, Rhodesia) to sell-up his farm for a pittance and relocate with his family to South Africa. Angus' funds were so low that he couldn't afford a farm with a house on it, but with typical determination he settled on a piece of land in KwaZulu Natal and set about raising crops and livestock.

In 1977, Angus startled those who knew him with his sudden conversion to Christianity, and in 1979 he and his wife Jill committed their lives fully to Christ during a service at Greytown Methodist Church.

In his best-selling autobiography, Faith Like Potatoes, published in 1998, Angus recounts how he learned to trust that God was at work building something substantial even if he couldn't see it, much in the way a potato grows underground, out of sight. In 2006 the book was made into a film, which went on to become a huge success in South Africa and worldwide.

In 1980, the Lord gave Angus and Jill a clear vision very simply and clearly through His Word:

The Great Commission - Mark 16:15
Caring for Orphans and Widows - James 1:27
Equipping Saints for the Work of Ministry - Matthew 28:20.
This was the inspiration for Shalom Ministries, which has grown from an evangelistic outreach in Angus' own community to an Africa-wide concern. Without any formal higher education or theological training, Angus followed God's call and conducted his first preaching campaign in 1990 in Ladysmith, KwaZulu Natal. In the years since, Angus' reputation has grown to the extent that he now fills stadiums across the African continent.

Since 1995, Shalom Ministries has administered a home for AIDS orphans and a farm-school in Angus' home district of Greytown. Also, between 2003 and 2010 Shalom ran seven annual 'Mighty Men' Conferences - outdoor worship camp-outs for men and boys that grew from 40 attendees at the start to over 200,000, and have proven to be highly influential. Angus' evangelistic and worship events have been recorded live, bringing his distinctive down-to-earth teaching style to a worldwide audience. He also presents a twice-weekly Christian television program 'Grassroots', filmed mostly on his farm.

Despite the demands of his ministry as a full-time evangelist, Angus remains a man who values quiet times with God and maintains a simple, no frills lifestyle on his farm, which is now run by his two sons Andrew and Fergus. Angus and his wife Jill also have three daughters Robyn, Jilly, and Lindi.
Jan Greenough
Jan Greenough is a professional author and editor, and has written many books. She serves as a magistrate in Oxfordshire, and she and her husband worship at a local Methodist church.
Customer Reviews For "Faith Like Potatoes"
Write Your Own Review
Awesome
By Sunette,

Jul 28 2013
All we need in life is to have faith...faith like potatoes. Very simple but rock solid.  A must read for everyone!
---
Surprisingly Good
By Raj,

Mar 28 2013
In short, if you've seen the movie, you've missed half the story. This book really goes into some of the painful realities experienced by Angus in a way the movie couldn't really do justice for.
---
Great Inspiritional evangelical book!
By Alison,

Aug 12 2007
Easy to read and hard to put down.  This book makes you feel you should be doing more to spread the word of God.  
Angus is a very down to earth South African farmer who has the most amazing faith in God that puts us all to shame.  This book brings you back to the basics of what we should doing everyday - to praise and worship and listen to God everyday(no matter what our circumstances)without all the  busyiness that we unfortunately usually get caught up in.  Makes you feel humble how he goes out to evangeilise his faith to others.
{{review.title}}
By {{review.author.name}},

{{review.reviewCreatedDate | date:'MMM dd yyyy'}}

{{reviewdescription}}
{{review.text}}
---