Falling For You (#02 in Bradford Sisters Romance Series)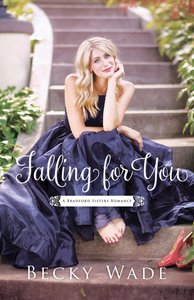 Famously beautiful model Willow Bradford is taking a temporary break from her hectic schedule to work as the innkeeper at her family's small-town bed-and-breakfast. She was enjoying the peace of her hometown, Merryweather, Washington, right up until she came face-to-face with Corbin Stewart, the man she loves to hate. A thoughtful rule-follower by nature, Willow threw caution to the wind four years ago when she entrusted her heart to Corbin--and suffered the consequences when it all fell apart.

Former NFL quarterback Corbin is forceful, charming, and accustomed to getting what he wants ... except where Willow Bradford is concerned. Unable to forget her, he's never stopped regretting what happened between them. When their paths unexpectedly cross again, he's determined to make her give him a second chance.

When a decades-old missing persons case finds Corbin and Willow working together, they're forced to confront their past and who they've become--and whether they can risk falling for one another all over again.

- Publisher
You May Also Be Interested In
About "Falling For You (#02 in Bradford Sisters Romance Series)"
Famously beautiful model Willow Bradford is taking a temporary break from her hectic schedule to work as the innkeeper at her family's small-town bed-and-breakfast. She was enjoying the peace of her hometown, Merryweather, Washington, right up until she came face-to-face with Corbin Stewart, the man she loves to hate. A thoughtful rule-follower by nature, Willow threw caution to the wind four years ago when she entrusted her heart to Corbin--and suffered the consequences when it all fell apart.

Former NFL quarterback Corbin is forceful, charming, and accustomed to getting what he wants ... except where Willow Bradford is concerned. Unable to forget her, he's never stopped regretting what happened between them. When their paths unexpectedly cross again, he's determined to make her give him a second chance.

When a decades-old missing persons case finds Corbin and Willow working together, they're forced to confront their past and who they've become--and whether they can risk falling for one another all over again.
- Publisher


Meet the Author
Becky Wade
Becky Wade is a graduate of Baylor University. As a newlywed, she lived for three years in a home overlooking the turquoise waters of the Caribbean, as well as in Australia, before returning to the States. A mom of three young children, Becky and her family now live in Dallas, Texas. Visit her website at www.beckywade.com. A
Customer Reviews For "Falling For You (#02 in Bradford Sisters Romance Series)"
Write Your Own Review
Restored Romance
By Rochelle, NSW,

Nov 07 2018
Falling for you  Becky Wade Book 2 A Bradford Sisters Romance
Quote
This God of his was a God who was determined to set broken things right.

In Book 1 we met Nora and John. In Falling for you we get to hear the story of Willow, Nora's older sister and Corbin Stewart.
Their journey is a road of learning about and how to forgive. Of looking back and finding God has been with them through so many things, both separate and together.

Willow and Corbin are thrown together by Corbin's young relative, Charlotte, to search for a missing Great Aunt, Josephine. They need to find a way to work together to help Charlotte but can Corbin get Willow to talk through their past?

With Forgiveness, Love and a mystery to be solved this book has been a great enjoyment to read.
 

---
Brilliant!!!!!
By Jacqui,

Jun 01 2018
This is the second book in the Bradford Sisters series and is primarily about Willow, the eldest sister. 
Yes it is a romance between Willow and Corban but it is so much more.  I love the layers of this book and the sensitive and realistic way Becky Wade has handled issues like dealing with mental illness, illegitimacy, identity, guilt and grief. This makes it sound like it is a heavy sad book but it isn't. You will both laugh and cry, feel their pain and their joy, be blessed and maybe challenged. I found it very hard to put down.

---
Great characters, especially Charlotte
By Iola,

May 12 2018
Falling for You intersperses the present-day story with letters, emails, and text messages from the past and present. It's a novel (!) way to tell a story, and it works as we see the past and present stories of Willow, Corbin, and others.

And it's a strong story. It's the romance of two people who messed up years ago, and have to work out if there's a way through that mess to find happiness. Part of that mess was because while Willow is and always has been a strong Christian, Corbin called himself a Christian but didn't live the life (football star, remember?). He's now become a Christian, but finding life hard.

Willow has her own problems with faith, and they are so deep-seated it actually takes her a while to realise they even exist. This, to me, was the depth in the book-Willow coming to terms with her past choices, and what that means for her faith. And there was a fascinating suspense plot around Charlotte's secret.

Falling for You is a touching tale of love lost and love found again, underpinned by an intriguing mystery, and the power of God to forgive.

Thanks to Bethany House and NetGalley for providing a free ebook for review.
{{review.title}}
By {{review.author.name}},

{{review.reviewCreatedDate | date:'MMM dd yyyy'}}

{{reviewdescription}}
{{review.text}}
---
Other Titles In The "Bradford Sisters Romance Series" Series View All