Fasting For a Miracle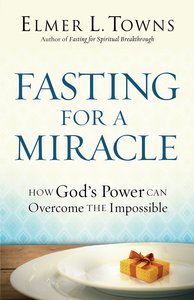 The fastest way to extreme breakthrough. Why fast? Because fasting builds extreme faith, and believers need extreme faith to overcome the impossible. In Fasting for a Miracle, bestselling author Elmer Towns shows readers that God often partners with His people to do the impossible through the spiritual disciple of fasting. When believers obey God's Word and fast, the Spirit grows their faith, fulfills God's promises, and moves in miraculous ways. Readers will discover the seven different types of miracles and find incredible true stories of fasting miracles--like the man who should be dead but still lives, the financial crisis that was overcome, and the miraculous peace that invaded chaotic circumstances. Plus, Towns offers practical guidance for how to fast wisely and biblically.

- Publisher
You May Also Be Interested In
About "Fasting For a Miracle"
The fastest way to extreme breakthrough. Why fast? Because fasting builds extreme faith, and believers need extreme faith to overcome the impossible. In Fasting for a Miracle, bestselling author Elmer Towns shows readers that God often partners with His people to do the impossible through the spiritual disciple of fasting. When believers obey God's Word and fast, the Spirit grows their faith, fulfills God's promises, and moves in miraculous ways. Readers will discover the seven different types of miracles and find incredible true stories of fasting miracles--like the man who should be dead but still lives, the financial crisis that was overcome, and the miraculous peace that invaded chaotic circumstances. Plus, Towns offers practical guidance for how to fast wisely and biblically.
- Publisher


Meet the Author
Elmer L Towns
Elmer L. Towns (D.Min., Fuller Theological Seminary) is co-founder of Liberty University, with Jerry Falwell, in 1971, and was the only full-time teacher in the first year of Liberty's existence. Today, the University has over 11,400 students on campus with 39,000 in the Distance Learning Program (now Liberty University Online), and he is the Dean of the School of Religion.
Towns has published over a hundred books including My Father's Names; 10 Sunday Schools That Dared to Change; 10 of Today's Most Innovative Churches; Towns' Sunday School Encyclopedia and the Gold Medallion Award awarded by the Christian Booksellers Association for writing the Book of the Year, The Names of the Holy Spirit. The multi-volume Praying through..... series has been received by a wide readership.
Koorong -Editorial Review.