Fatal Convictions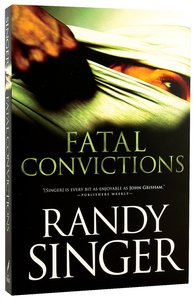 Alexander Madison is part lawyer, part pastor, and part con artist. When a Muslim imam is accused of instigating honor killings, Alex must decide whether to take the case that every other lawyer in town is running away from. He doesn't realize until it's too late that defending the imam may cost him the one thing in life he cares about most. Fatal Convictions is the story of a lawyer willing to risk it all and the women who must choose between faith and love.



- Publisher
You May Also Be Interested In
About "Fatal Convictions"
Alexander Madison is part lawyer, part pastor, and part con artist. When a Muslim imam is accused of instigating honor killings, Alex must decide whether to take the case that every other lawyer in town is running away from. He doesn't realize until it's too late that defending the imam may cost him the one thing in life he cares about most. Fatal Convictions is the story of a lawyer willing to risk it all and the women who must choose between faith and love.


- Publisher


Meet the Author
Randy Singer
Randy Singer serves as general counsel for the North American Misson Board and on the Board of Legal Advisors for the American Center of Law and Justice, a public service law firm that defends religious freedom in the United States and abroad. He is the author of Directed Verdict.