Father Fiction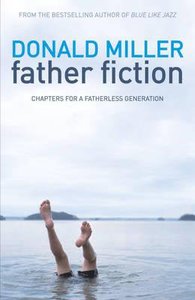 Donald Miller's dad left when he was very young. From that point onwards, Donald felt different. Different from the other boys in his class; different from the other boys at camp. He discovered that growing up without a father to show him the ropes is hard work. Dads have crucial wisdom to impart to their sons, but without one, life seems a whole lot harder.With honest humour and raw self-revelation, bestselling author Donald Miller talks about growing up without a father and discusses the issues that befall the 'fatherless generation'. Miller shares his journey from self-pity and brokenness to hope and strength, providing guidance for the growing numbers of young adults floundering in an age with fewer and fewer positive domestic male role models.This amusing, but ultimately inspiring memoir provides encouragement for both men and women who've grown up with absent fathers, as well as the wives, girlfriends and friends of those with a similar story.

- Publisher
You May Also Be Interested In
About "Father Fiction"
Donald Miller's dad left when he was very young. From that point onwards, Donald felt different. Different from the other boys in his class; different from the other boys at camp. He discovered that growing up without a father to show him the ropes is hard work. Dads have crucial wisdom to impart to their sons, but without one, life seems a whole lot harder.With honest humour and raw self-revelation, bestselling author Donald Miller talks about growing up without a father and discusses the issues that befall the 'fatherless generation'. Miller shares his journey from self-pity and brokenness to hope and strength, providing guidance for the growing numbers of young adults floundering in an age with fewer and fewer positive domestic male role models.This amusing, but ultimately inspiring memoir provides encouragement for both men and women who've grown up with absent fathers, as well as the wives, girlfriends and friends of those with a similar story.
- Publisher


Meet the Author
Donald Miller
Donald Miller grew up in Houston, TX. Leaving home at the age of 21, he traveled across the country until he ran out of money in Portland, OR, where he lives today.
In 2002, after having audited classes at Reed College, Don wrote Blue Like Jazz, which would slowly become a NY Times bestseller. In 2004 Don released Searching For God Knows What, a book about how the Gospel of Jesus explains the human personality. In 2005 he released Through Painted Deserts, the story of his and a friend's road trip across the country. Recently he has released A Million Miles in a Thousand Years: What I Learned While Editing My Life
A sought-after speaker, Don has delivered lectures to a wide range of audiences, including the Women of Faith Conference, the Veritas Forum at Harvard University, and the Veritas Forum at Cal Poly. In 2008 Don was asked to deliver the closing prayer on Monday night at the Democratic National Convention in Denver, CO.
-Editorial Review.