Field of Blood (#01 in Jerusalem's Undead Trilogy Series)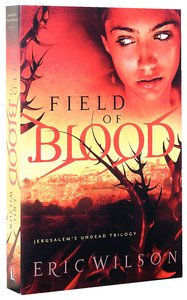 Judas hanged himself in a place known as the Akeldama or Field of Blood. But what if his death didn't end his betrayal? What if his tainted blood seeped deep into the earth, into burial caves, causing a counterfeit resurrection of the dead?

Gina Lazarescu, a Romanian girl with a scarred past, has no idea she is being sought by the undead. The Collectors, those released from the Akeldama, feed on souls and human blood. But there are also the Nistarim, those who rose from their graves in the shadow of the Nazarene's crucifixion - and they still walk among us, immortal, left to protect mankind.

Gina realizes her future will depend on her understanding of the past, yet how can she protect herself from Collectors who have already died once but still live?

The Jerusalem's Undead trilogy takes readers on a riveting journey, as imaginative fiction melds with biblical and archaeological history.



- Publisher This Present Darkness meets historical legends in this Biblically grounded series. The suicide of Judas Iscariot in 30 A.D. left his blood seeping into the soil of the Field of Blood, in Aramaic the Akeldama. When this same field is disturbed by work crews outside Jerusalem in 1989, a clan of supernatural Collectors is released from the ancient burial chambers. Infused with Judas's enmity, they seek to corrupt and destroy. Gina Lazarescu has always felt like she didn't quite belong. But a bizarre accident with a delivery van leaves her questioning if the differences aren't more significant than she realized. When a man she met as a young girl in Romania reappears with a fantastic tale of immortality, Gina must decide whether to believe or to ignore what she's seeing. Regardless of what she decides, she's headed for an unavoidable collision with the Akeldama.

- Publisher
You May Also Be Interested In
About "Field of Blood (#01 in Jerusalem's Undead Trilogy Series)"
Judas hanged himself in a place known as the Akeldama or Field of Blood. But what if his death didn't end his betrayal? What if his tainted blood seeped deep into the earth, into burial caves, causing a counterfeit resurrection of the dead?

Gina Lazarescu, a Romanian girl with a scarred past, has no idea she is being sought by the undead. The Collectors, those released from the Akeldama, feed on souls and human blood. But there are also the Nistarim, those who rose from their graves in the shadow of the Nazarene's crucifixion - and they still walk among us, immortal, left to protect mankind.

Gina realizes her future will depend on her understanding of the past, yet how can she protect herself from Collectors who have already died once but still live?

The Jerusalem's Undead trilogy takes readers on a riveting journey, as imaginative fiction melds with biblical and archaeological history.


- Publisher

This Present Darkness meets historical legends in this Biblically grounded series. The suicide of Judas Iscariot in 30 A.D. left his blood seeping into the soil of the Field of Blood, in Aramaic the Akeldama. When this same field is disturbed by work crews outside Jerusalem in 1989, a clan of supernatural Collectors is released from the ancient burial chambers. Infused with Judas's enmity, they seek to corrupt and destroy. Gina Lazarescu has always felt like she didn't quite belong. But a bizarre accident with a delivery van leaves her questioning if the differences aren't more significant than she realized. When a man she met as a young girl in Romania reappears with a fantastic tale of immortality, Gina must decide whether to believe or to ignore what she's seeing. Regardless of what she decides, she's headed for an unavoidable collision with the Akeldama.
- Publisher


Meet the Author
Eric Wilson
Eric Wilson is the author of "Dark to Mortal Eyes. A bible college graduate, he has a firm understanding of Scripture and doctrine, which he uses as a backdrop for the tough issues in his novels. Eric and his wife live with their two pre-teen daughters in Nashville, Tennessee.
Excerpt
Excerpt from: Field of Blood (#01 in Jerusalem's Undead Trilogy Series)
Other Titles In The "Jerusalem's Undead Trilogy" Series