Fight Back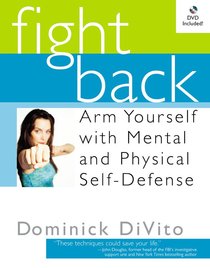 Its a tragic reality that the majority of us will be victims of crime at some point in our lives. The attacker may be bigger, stronger, maybe even armed, and hell always have the advantages of surprise and paralyzing fear on his side. In this essential guide on self-defense, Dominick DiVito covers the myths of self-defense, what attackers are thinking and looking for in a victim, and how you can use that knowledge for protection. He also equips readers with basic moves to use to incapacitate an attacker and escape. If you arm yourself with the knowledge in this book, no matter what the situation is, you can fight back.

- Publisher A self-defense expert empowers readers with techniques anyone can use to fight back against a physical attack.

- Publisher
You May Also Be Interested In
About "Fight Back"
Its a tragic reality that the majority of us will be victims of crime at some point in our lives. The attacker may be bigger, stronger, maybe even armed, and hell always have the advantages of surprise and paralyzing fear on his side. In this essential guide on self-defense, Dominick DiVito covers the myths of self-defense, what attackers are thinking and looking for in a victim, and how you can use that knowledge for protection. He also equips readers with basic moves to use to incapacitate an attacker and escape. If you arm yourself with the knowledge in this book, no matter what the situation is, you can fight back.
- Publisher

A self-defense expert empowers readers with techniques anyone can use to fight back against a physical attack.
- Publisher


Meet the Authors
Wynonna Judd
Wynonna Judd was part of the legendary mother-daughter duo The Judds, selling more than 20 million records worldwide, and winning over 60 industry awards. As a solo artist, Wynonna received the Female Vocalist of the Year award from the Academy of Country Music. ý Patsi Bale Cox is a music journalist who has collaborated on such bestselling memoirs as Loretta Lynn's "Still Woman Enough" and Ralph Emery's "The View from Nashville,"