Fight Like a Girl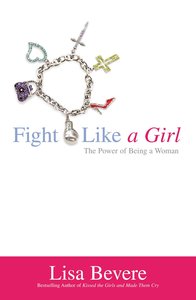 Today's twisted pictures of gender roles create confusion over how a woman should define herself. Women and men are encouraged to move closer to center and away from the traits that distinguish male from female. How can women feel good about themselves when society is constantly dictating what they can and should be? In FIGHT LIKE A GIRL, Lisa Bevere exhorts us to embrace the differences between sexes. Her goal is to encourage women to celebrate the unique aspects of femininity. Instead of trying to adopt ill-fitting character traits, women should see themselves as designed and valued by God and savor their femininity as their strength, not a flaw.

- Publisher
You May Also Be Interested In
About "Fight Like a Girl"
Today's twisted pictures of gender roles create confusion over how a woman should define herself. Women and men are encouraged to move closer to center and away from the traits that distinguish male from female. How can women feel good about themselves when society is constantly dictating what they can and should be? In FIGHT LIKE A GIRL, Lisa Bevere exhorts us to embrace the differences between sexes. Her goal is to encourage women to celebrate the unique aspects of femininity. Instead of trying to adopt ill-fitting character traits, women should see themselves as designed and valued by God and savor their femininity as their strength, not a flaw.
- Publisher


Meet the Author
Lisa Bevere
Lisa Bevere is the best-selling author of Fight Like a Girl, Kissed the Girls and Made Them Cry, Out of Control and Loving It!, Be Angry but Don't Blow It! and most recently Nurture In addition to speaking at national and international conferences, she is a frequent guest on Christian television and radio shows. Lisa is also the co-host of the weekly television program 'The Messenger'.
-Editorial Review.