Fighting For Peace (Frames Barna Group Series)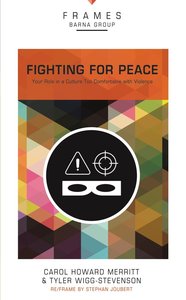 There are lots of questions we must ask ourselves when we talk about violence, and our role in perpetuating it or in creating peace. Why are we, as Christians, more comfortable with violence in our movies than sex? What does it mean that Jesus called us to love our enemies? How can we, in our churches, cultivate a peace that might reshape society? Do we create it by constantly protesting violence? By preaching? By rethinking our foreign policy? By somehow making peace cool? Join Carol Howard Merritt, a pastor, writer and speaker, as she tackles these tough questions and others in this Barna Frame. Violence is a tough, timely topic, and one that we, as the Church, have the chance to transform.

- Publisher
You May Also Be Interested In
About "Fighting For Peace (Frames Barna Group Series)"
There are lots of questions we must ask ourselves when we talk about violence, and our role in perpetuating it or in creating peace. Why are we, as Christians, more comfortable with violence in our movies than sex? What does it mean that Jesus called us to love our enemies? How can we, in our churches, cultivate a peace that might reshape society? Do we create it by constantly protesting violence? By preaching? By rethinking our foreign policy? By somehow making peace cool? Join Carol Howard Merritt, a pastor, writer and speaker, as she tackles these tough questions and others in this Barna Frame. Violence is a tough, timely topic, and one that we, as the Church, have the chance to transform.
- Publisher


Meet the Authors
Barna Group
In its 30-year history, Barna Group has conducted more than one million interviews over the course of hundreds of studies, and has become a go-to source for insights about faith and culture, leadership and vocation, and generations. Barna Group has carefully and strategically tracked the role of faith in America, developing one of the nation's most comprehensive databases of spiritual indicators. Notable clients include the Salvation Army, World Vision, Habitat for Humanity, Sony, Walden Media, Easter Seals, the Humane Society, the Gates Foundation, and NBC Universal. The firm's research is often quoted in major media outlets such as CNN, USA Today, the Wall Street Journal, Fox News, Chicago Tribune, Huffington Post, the New York Times, Dallas Morning News, and the Los Angeles Times.
Carol Howard Merritt
Carol Howard Merritt has served as a pastor at First Presbyterian Church in Abbeville, Louisiana, and Barrington Presbyterian Church in Barrington, Rhode Island. She is currently a pastor at Western Presbyterian Church in Washington, D.C. A
Other Titles In The "Frames Barna Group Series" Series View All