Final Confrontation (#04 in Chronicles Of The Host Series)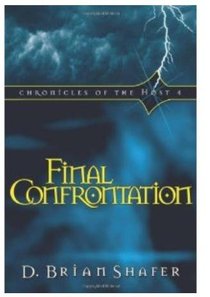 356 Pages

- Publisher With the long-dreaded Seed of the woman delivered at Bethlehem, the prophecy of the Coming One has now been fulfilled. Lucifer realizes that any hope to win the war is slipping away and decides upon desperate gamble---he will have to face the Son personally. With his demonic host to assist him, Lucifer makes plans to cut the Messiah down once and for all. Boasting that he will "more than bruise His heel," Lucifer decides to destroy the Son from within his inner circle and sets his heart upon a dark plan that will end on the darkest day in history.....or so he believes. Set in and around Jerusalem, FINAL CONFRONTATION describes the death match between light and darkness that reaches a brutal and bloody climax for Calvary.

- Publisher With the birth of the Seed, Lucifer and his demons are more determined than ever to win the war against God and His holy angels. Manipulating the murderous politics and religious fervor of the times, Lucifer and his evil minions plot to use God's own people to destroy the Seed and conquer humankind. The Seed must be victorious. But at what cost? In this powerful conclusion to the Chronicles of the Host series, D. Brian Shafer unveils the depths of depravity to which the evil one will go to fulfill his diabolical plans for the human race. Lucifer's destruction is imminent -- at the hands of the Chosen One! Book jacket.

- Publisher
You May Also Be Interested In
About "Final Confrontation (#04 in Chronicles Of The Host Series)"
356 Pages
- Publisher

With the long-dreaded Seed of the woman delivered at Bethlehem, the prophecy of the Coming One has now been fulfilled. Lucifer realizes that any hope to win the war is slipping away and decides upon desperate gamble---he will have to face the Son personally. With his demonic host to assist him, Lucifer makes plans to cut the Messiah down once and for all. Boasting that he will "more than bruise His heel," Lucifer decides to destroy the Son from within his inner circle and sets his heart upon a dark plan that will end on the darkest day in history.....or so he believes. Set in and around Jerusalem, FINAL CONFRONTATION describes the death match between light and darkness that reaches a brutal and bloody climax for Calvary.
- Publisher

With the birth of the Seed, Lucifer and his demons are more determined than ever to win the war against God and His holy angels. Manipulating the murderous politics and religious fervor of the times, Lucifer and his evil minions plot to use God's own people to destroy the Seed and conquer humankind. The Seed must be victorious. But at what cost? In this powerful conclusion to the Chronicles of the Host series, D. Brian Shafer unveils the depths of depravity to which the evil one will go to fulfill his diabolical plans for the human race. Lucifer's destruction is imminent -- at the hands of the Chosen One! Book jacket.
- Publisher


Meet the Author
D Brian Shafer
D. Brian Shafer is Associate Pastor at Valley Christian Center, in Dublin, California. He has an earned doctorate in ministry and is passionate about seeing others develop in their personal ministry gifts and knowledge of God's transforming word. He is blessed with a wonderful family comprised of wife Lori, daughters Kiersten and Breelin, and hamsters Anna and Toffee.
Other Titles In The "Chronicles Of The Host" Series View All