Finding Authentic Hope & Wholeness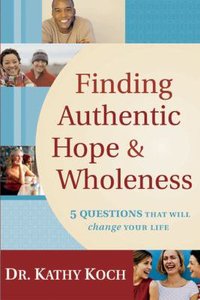 Your mother always said that you would never amount to much. Or perhaps a teacher asked you to help her because you were just so good at (fill in the blank). Those early messages about our intelligence and worth affect our lives forever ... or do they? How do we find authentic hope and wholeness based on truth, reality, and God's view? Dr. Kathy Koch draws on decades of seminars and workshops geared to the educational community. She knows the right questions to ask. She also knows that intelligence and worth take different forms in each of us. Readers of all ages and stages will benefit from the life-changing wisdom contained in Finding Authentic Hope and Wholeness.

- Publisher 208 Pages

- Publisher Do you want to be more convinced of your value as a person? More positive in your attitude? More secure in your relationships? More confident in your abilities? Dr. Kathy Koch is a champion at encouraging and equipping people to find hope and wholeness. Here, she brings her wealth of experience to you as she teaches how to instill security, identity, belonging, purpose and competence in yourself and others, which will ultimately fill you and those you love with hope and wholeness.

- Publisher
You May Also Be Interested In
About "Finding Authentic Hope & Wholeness"
Your mother always said that you would never amount to much. Or perhaps a teacher asked you to help her because you were just so good at (fill in the blank). Those early messages about our intelligence and worth affect our lives forever ... or do they? How do we find authentic hope and wholeness based on truth, reality, and God's view? Dr. Kathy Koch draws on decades of seminars and workshops geared to the educational community. She knows the right questions to ask. She also knows that intelligence and worth take different forms in each of us. Readers of all ages and stages will benefit from the life-changing wisdom contained in Finding Authentic Hope and Wholeness.
- Publisher

208 Pages
- Publisher

Do you want to be more convinced of your value as a person? More positive in your attitude? More secure in your relationships? More confident in your abilities? Dr. Kathy Koch is a champion at encouraging and equipping people to find hope and wholeness. Here, she brings her wealth of experience to you as she teaches how to instill security, identity, belonging, purpose and competence in yourself and others, which will ultimately fill you and those you love with hope and wholeness.
- Publisher


Meet the Author
Kathy Koch
As the Founder and President of CELEBRATE KIDS, Inc. of Fort Worth, Texas, Dr. KATHY KOCH (pronounced " cook" ) teaches parents, educators, children of all ages, and missionaries nationally and internationally at school-, church-, and convention-sponsored events. Among key truths embraced by thousands have been these: " Kids are human beings, not human doings" and " Kids have present value, not just future potential."   She and her team are known for providing relevant, practical, and detailed solutions that people implement and keep using because they work.
Table Of Contents
1. Rock Bottom Or Anochored To The Rock

2. Chutes And Ladders Linkages

3. Security: Who Can I Trust?

4. Identity: Who Am I?

5. The Change Process

6. Belonging: Who Wants Me?

7. Purpose: Why Am I Alive?

8. Competence: What Do I Do Well?

Excerpt
Excerpt from: Finding Authentic Hope & Wholeness
Vivid, early memories often capture the essence of how we look at lifeâ⿬⿿for better or for worse. Even at six years old, fitting in was important to me. It was so important that, one day after first grade, I sat down in the middle of my parents' bed and announced to my mom, "I don't want to be tall or clumsy anymore!" Both my clumsiness and my height made me stand out. I tripped over things that weren't there and ran into things that were. I couldn't hide in a crowd. I squirmed when I caught children and adults staring at me.


My mom heard my heart's cry. She didn't proclaim, "Well, get over it, you're going to be tall!" Instead, she talked with my dad about it, and they realized I had a perceived weakness that could be changed (my clumsiness) and one that couldn't (my height).


You know what they did? They problem solved. I praise God they were solution-focused parents! They enrolled me in dance class, and I thrived! Through tap and ballet, I quickly overcame my clumsiness. Because of my height, I was the center of the back rowâ⿬⿿which I decided was a position of high honor! (When a perceived weakness is an unchangeable characteristic, changing one's attitude toward it is the next best thing.)