Finding Calcutta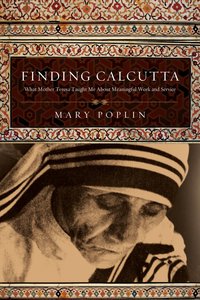 "Find the sick, the suffering and the lonely right there where you are... . You can find Calcutta all over the world, if you have the eyes to see." --Mother Teresa Lifelong educator Mary Poplin, after experiencing a newfound awakening to faith, sent a letter to Calcutta asking if she could visit Mother Teresa and volunteer with the Missionaries of Charity. She received a response saying, "You are welcome to share in our works of love for the poorest of the poor." So in the spring of 1996, Poplin spent two months in Calcutta as a volunteer. There she observed Mother Teresa's life of work and service to the poor, participating in the community's commitments to simplicity and mercy. Mother Teresa's unabashedly religious work stands in countercultural contrast to the limitations of our secular age. Poplin's journey gives us an inside glimpse into one of the most influential lives of the twentieth century and the lessons Mother Teresa continues to offer. Upon Poplin's return, she soon discovered that God was calling her to serve the university world with the same kind of holistic service with which Mother Teresa served Calcutta. Not everyone can go to Calcutta. But all of us can find our own meaningful work and service. Come and answer the call to find your Calcutta!

- Publisher
You May Also Be Interested In
About "Finding Calcutta"
"Find the sick, the suffering and the lonely right there where you are... . You can find Calcutta all over the world, if you have the eyes to see." --Mother Teresa Lifelong educator Mary Poplin, after experiencing a newfound awakening to faith, sent a letter to Calcutta asking if she could visit Mother Teresa and volunteer with the Missionaries of Charity. She received a response saying, "You are welcome to share in our works of love for the poorest of the poor." So in the spring of 1996, Poplin spent two months in Calcutta as a volunteer. There she observed Mother Teresa's life of work and service to the poor, participating in the community's commitments to simplicity and mercy. Mother Teresa's unabashedly religious work stands in countercultural contrast to the limitations of our secular age. Poplin's journey gives us an inside glimpse into one of the most influential lives of the twentieth century and the lessons Mother Teresa continues to offer. Upon Poplin's return, she soon discovered that God was calling her to serve the university world with the same kind of holistic service with which Mother Teresa served Calcutta. Not everyone can go to Calcutta. But all of us can find our own meaningful work and service. Come and answer the call to find your Calcutta!
- Publisher


Meet the Author
Mary Poplin
Mary Poplin (Ph.D., University of Texas) is a professor of education at Claremont Graduate University in California, where she has served as director of the teacher education program and dean of the School of Educational Studies. Poplin conducts research inside urban classrooms and schools that promote both justice and accountability. She teaches courses on pedagogy, history and philosophy of education, as well as Christian principles related to these areas. She is also a frequent speaker at Veritas Forums and for both Protestant and Catholic retreats across the country. She is the author of the book Finding Calcutta, a recounting of the time she spent serving with Mother Theresa.
Table Of Contents
"find The Sick, The Suffering And The Lonely Right There Where You Are... . You Can Find Calcutta All Over The World, If You Have The Eyes To See." --mother Teresa Lifelong Educator Mary Poplin, After Experiencing A Newfound Awakening To Faith, Sent A Letter To Calcutta Asking If She Could Visit Mother Teresa And Volunteer With The Missionaries Of Charity. She Received A Response Saying, "you Are Welcome To Share In Our Works Of Love For The Poorest Of The Poor." So In The Spring Of 1996, Poplin Spent Two Months In Calcutta As A Volunteer. There She Observed Mother Teresa's Life Of Work And Service To The Poor, Participating In The Community's Commitments To Simplicity And Mercy. Mother Teresa's Unabashedly Religious Work Stands In Countercultural Contrast To The Limitations Of Our Secular Age. Poplin's Journey Gives Us An Inside Glimpse Into One Of The Most Influential Lives Of The Twentieth Century And The Lessons Mother Teresa Continues To Offer. Upon Poplin's Return, She Soon Discovered That God Was Calling Her To Serve The University World With The Same Kind Of Holistic Service With Which Mother Teresa Served Calcutta. Not Everyone Can Go To Calcutta. But All Of Us Can Find Our Own Meaningful Work And Service. Come And Answer The Call To Find your Calcutta!

1. Getting There

2. A Day In The Life Of A Missionary Of Charity

3. A Pencil In God's Hand

4. Whatever You Did For The Least Of These, You Did For Me

5. The Church As Flawed And Finite

6. Do All Things Without Complaining Or Disputing

7. It All Belongs To God

8. There Is Always Enough

9. The Vow Of Poverty And Service To The Poor

10. The Vow Of Obedience

11. The Vow Of Chastity

12. Small Things With Great Love

13. Prayer Is Our First Work

14. The Missionaries And Miracles

15. If We Say We Have No Sin, The Truth Is Not In Us

16. Here God's Grace More Abounds

17. Sometimes We Get Lost When We Look At Numbers

18. Don't Give In To Discouragement

19. Mother Teresa's Dark Night Of The Spirit

20. The Humor Of Mother Teresa

21. Spreading The Fragrance Of Christ

22. It Matters Not, He Is Forgiven

23. Fighting Abortion With Adoption

24. Give Until It Hurts

25. Revolutionaries For Love

26. Mother Teresa And The Body Of Christ

27. The Uniqueness Of Christ

28. Leaving Calcutta

29. Finding Calcutta

30. My Thoughts Are Not Your Thoughts

Epilogue: Fall More In Love With Jesus Every Day
{{review.title}}
By {{review.author.name}},

{{review.reviewCreatedDate | date:'MMM dd yyyy'}}

{{reviewdescription}}
{{review.text}}
---