Finding God in the Dark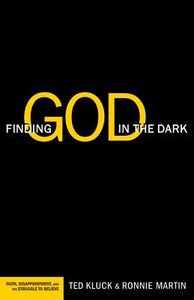 An Honest, Hopeful Look at Christian Doubt
and Disappointment

Doubt often has less to do with the head than the heart. When Christians go through trials--from unmet personal expectations to the death of a loved one--they often feel like God has abandoned them, or maybe he never cared at all. Kluck and Martin walk readers through dark times in their own lives to reveal a God of love who never forsakes his children. Here is grace and hope for any believer struggling to believe.

- Publisher
You May Also Be Interested In
About "Finding God in the Dark"
An Honest, Hopeful Look at Christian Doubt
and Disappointment

Doubt often has less to do with the head than the heart. When Christians go through trials--from unmet personal expectations to the death of a loved one--they often feel like God has abandoned them, or maybe he never cared at all. Kluck and Martin walk readers through dark times in their own lives to reveal a God of love who never forsakes his children. Here is grace and hope for any believer struggling to believe.
- Publisher


Meet the Authors
Ted Kluck
Ted Kluck's work has appaered in ESPN the Magazine, Sports Spectrum Magazine, ESPN.com Page2, and several small literary journals. A bi-monthly column for Sports Spectrum Magazine entitled "Pro and Con" won the Evangelical Presss Association award for best standing column in 2003. Additionally, Ted has written two WGA registered screenplays and an award-winning (Damah Film Festival, Sabaoth Film Festival) short film. Ted lives in Lansing, Michigan with his wife Kristen, and son, Tristan.
He has co-authored Why We Love the Church: In Praise of Institutions and Organized Religion and Why We're Not Emergent: (By Two Guys Who Should Be) with Kevin DeYoung
Ronnie Martin
Ronnie Martin is a Dove Award-nominated recording artist best known as the sole member of Joy Electric. Ronnie has over twenty album credits and is a worship arts pastor and young adults teacher at Ashland Grace Church in Ohio. He lives in Ashland, Ohio, with his wife, Melissa, and daughter. A