Finding God in the Hard Times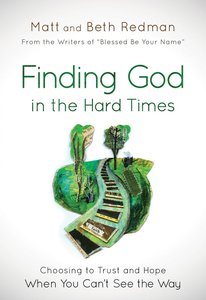 "Powerful and life-altering encouragement for us all."--Louie Giglio

In this inspiring book, Matt and Beth Redman draw on their experiences as well as those of others, exploring how to offer praise even in the face of hardship and pain. Focusing on the psalms, many of which were written out of struggle, they show how difficult or tragic circumstances--and our choices--can propel us toward God or away from him, build up our faith or break it. Learn how to ride out the storms of life with a cry of "blessed be your name" on your lips.

- Publisher
You May Also Be Interested In
About "Finding God in the Hard Times"
"Powerful and life-altering encouragement for us all."--Louie Giglio

In this inspiring book, Matt and Beth Redman draw on their experiences as well as those of others, exploring how to offer praise even in the face of hardship and pain. Focusing on the psalms, many of which were written out of struggle, they show how difficult or tragic circumstances--and our choices--can propel us toward God or away from him, build up our faith or break it. Learn how to ride out the storms of life with a cry of "blessed be your name" on your lips.
- Publisher


Meet the Authors
Matt Redman
Matt and Beth Redman have made an invaluable contribution to "Soul Survivor " a worship movement that has inspired thousands of young people round the world who desire to follow the ways of God. At the moment the Redmans work with an Anglican church near Brighton, England.
Beth Redman
Matt and BETH REDMAN received the Dove Award for the Worship Song of the Year for Blessed Be Your Name. Together they have also written the songs Let My Words Be Few and Facedown. In addition, Matt is the author of The Unquenchable Worshipper and Facedown; Beth is the author of Soul Sister. They are involved with a new Anglican church plant, The Point, near Brighton, England. Matt, Beth and their children, Maisey and Noah, reside in West Sussex, England.ý