Finding God in the Verbs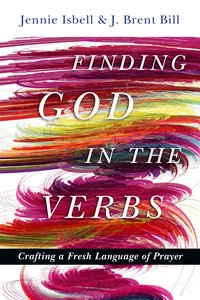 Do you long for deeper communion with God? Spiritual director Jennie Isbell and Quaker minister Brent Bill know how easy it is to lapse into repetitious refrains of prayer:"Our hearts told us that we had lapsed into easy God speak. We weren't reaching deep into our spirits and drawing out living words of praise, confession, concern, intercession and longing. We were tired of speaking in clipped shorthand to God. We wanted to pray in such a way that we showed up with our whole selves."If you have experienced a similar longing, come join the authors on this prayer journey into the deep waters of the Spirit. This book offers companionship and guidance as you begin to notice, consider and deepen your prayer experiences, with refreshing exercises sprinkled through every chapter to offer you a fresh language for prayer. Find God here?in the nouns and the verbs of your conversation.

- Publisher
You May Also Be Interested In
About "Finding God in the Verbs"
Do you long for deeper communion with God? Spiritual director Jennie Isbell and Quaker minister Brent Bill know how easy it is to lapse into repetitious refrains of prayer:"Our hearts told us that we had lapsed into easy God speak. We weren't reaching deep into our spirits and drawing out living words of praise, confession, concern, intercession and longing. We were tired of speaking in clipped shorthand to God. We wanted to pray in such a way that we showed up with our whole selves."If you have experienced a similar longing, come join the authors on this prayer journey into the deep waters of the Spirit. This book offers companionship and guidance as you begin to notice, consider and deepen your prayer experiences, with refreshing exercises sprinkled through every chapter to offer you a fresh language for prayer. Find God here?in the nouns and the verbs of your conversation.
- Publisher


Meet the Authors
Jennie Isbell
Jennifer Leigh Isbell (MDiv, Earlham School of Religion) is an experienced spiritual director. In addition to her training in spiritual care, Jennifer cares deeply about the intersection of the spirit and the body, working extensively as a practitioner and teacher in yoga, Integrative Yoga Therapy, Reiki, Thai bodywork and massage. She is the author of Leading Quakers, an eight-part curriculum for training worship communities and she lives in Greenfield, Massachusetts with her husband.
Table Of Contents
Do You Long For Deeper Communion With God? Spiritual Director Jennie Isbell And Quaker Minister Brent Bill Know How Easy It Is To Lapse Into Repetitious Refrains Of Prayer:"our Hearts Told Us That We Had Lapsed Into Easy God Speak. We Weren't Reaching Deep Into Our Spirits And Drawing Out Living Words Of Praise, Confession, Concern, Intercession And Longing. We Were Tired Of Speaking In Clipped Shorthand To God. We Wanted To Pray In Such A Way That We Showed Up With Our Whole Selves."if You Have Experienced A Similar Longing, Come Join The Authors On This Prayer Journey Into The Deep Waters Of The Spirit. This Book Offers Companionship And Guidance As You Begin To Notice, Consider And Deepen Your Prayer Experiences, With Refreshing Exercises Sprinkled Through Every Chapter To Offer You A Fresh Language For Prayer. Find God Here?in The Nouns And The Verbs Of Your Conversation.

Appendix 1: Exercises For Building Prayer As A Spiritual Practiceappendix 2: Prayer Exercisesappendix 3: Resourcesacknowledgmentsnotesfinding God In The Verbs?the Workshopabout Brentabout Jennie