Finding Hope When Life's Not Fair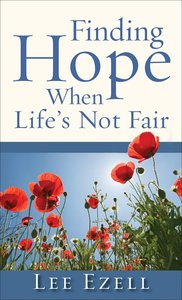 Whether debilitating illness, divorce, financial hardship, emotional upheaval, or a loved one's death, life's injustice impacts everyone. When it does, questions arise: How can God allow such suffering? Why is he so silent? Can he be trusted?

Finding Hope When Life's Not Fair chronicles Lee Ezell's own journey of hope and courage as she struggled with her faith during her darkest days. Offering no easy answers but plenty of hard-won wisdom, she writes honestly about how deep pain can run--and offers a compelling argument that God's love runs deeper still. Whatever their circumstances, readers will find their faith buoyed as this book affirms the reality of the Lord's grace awaiting them in their toughest times.

- Publisher
You May Also Be Interested In
About "Finding Hope When Life's Not Fair"
Whether debilitating illness, divorce, financial hardship, emotional upheaval, or a loved one's death, life's injustice impacts everyone. When it does, questions arise: How can God allow such suffering? Why is he so silent? Can he be trusted?

Finding Hope When Life's Not Fair chronicles Lee Ezell's own journey of hope and courage as she struggled with her faith during her darkest days. Offering no easy answers but plenty of hard-won wisdom, she writes honestly about how deep pain can run--and offers a compelling argument that God's love runs deeper still. Whatever their circumstances, readers will find their faith buoyed as this book affirms the reality of the Lord's grace awaiting them in their toughest times.
- Publisher


Meet the Author
Lee Ezell
Lee Ezell is a dynamic women??'s conference speaker, known for her ability to communicate truth with humor. She is the author of eight books, including The Cinderella Syndrome and The Missing Piece, and lives in Newport Beach, California.