Finding Spiritual Whitespace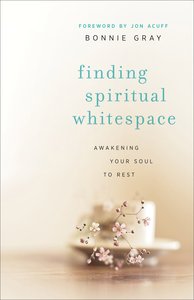 Move beyond Coping and Surviving to a Rejuvenating Place of Soul Rest

How many of us find ourselves exhausted, running on empty with no time for rest, no time for ourselves, no time for God? Bonnie Gray knows exactly what that's like. On the brink of fulfilling a lifelong dream, Bonnie's plans suddenly went off script. Her life shattered into a debilitating journey through anxiety, panic attacks, and insomnia. But as she struggled to make sense of it all, she made an important discovery: we all need spiritual whitespace.

Spiritual whitespace makes room--room in one's heart for a deep relationship with God, room in one's life for rest, room in one's soul for rejuvenation. With soul-stirring vulnerability and heartbreaking honesty, Bonnie takes readers on a personal journey to feed their souls and uncover the deeper story of rest. Lyrical writing draws readers into Gray's intimate journey through overwhelming stress to find God in a broken story and celebrate the beauty of faith.

Guided by biblical encouragement and thought-provoking prompts, Gray shows readers how to create space in the everyday for God, refreshment, and faith. She also offers practical steps and insights for making spiritual whitespace a reality, right in the midst of the stress-frayed stories in every season of life.

"We live in a culture that brags and boasts about being busy. Into that reality steps Bonnie with a new idea. Whitespace is an important concept and Bonnie has captured it perfectly. If you're exhausted with being exhausted, read this book. If you feel too busy to read this book, then that's probably the best sign of all that you need it."--from the foreword by Jon Acuff, New York Times bestselling author of Stuff Christians Like

- Publisher
You May Also Be Interested In
About "Finding Spiritual Whitespace"
Move beyond Coping and Surviving to a Rejuvenating Place of Soul Rest

How many of us find ourselves exhausted, running on empty with no time for rest, no time for ourselves, no time for God? Bonnie Gray knows exactly what that's like. On the brink of fulfilling a lifelong dream, Bonnie's plans suddenly went off script. Her life shattered into a debilitating journey through anxiety, panic attacks, and insomnia. But as she struggled to make sense of it all, she made an important discovery: we all need spiritual whitespace.

Spiritual whitespace makes room--room in one's heart for a deep relationship with God, room in one's life for rest, room in one's soul for rejuvenation. With soul-stirring vulnerability and heartbreaking honesty, Bonnie takes readers on a personal journey to feed their souls and uncover the deeper story of rest. Lyrical writing draws readers into Gray's intimate journey through overwhelming stress to find God in a broken story and celebrate the beauty of faith.

Guided by biblical encouragement and thought-provoking prompts, Gray shows readers how to create space in the everyday for God, refreshment, and faith. She also offers practical steps and insights for making spiritual whitespace a reality, right in the midst of the stress-frayed stories in every season of life.

"We live in a culture that brags and boasts about being busy. Into that reality steps Bonnie with a new idea. Whitespace is an important concept and Bonnie has captured it perfectly. If you're exhausted with being exhausted, read this book. If you feel too busy to read this book, then that's probably the best sign of all that you need it."--from the foreword by Jon Acuff, New York Times bestselling author of Stuff Christians Like
- Publisher


Meet the Author
Bonnie Gray
Bonnie Gray is the founder of Faith Barista, a contributor to Crosswalk.com, and a featured writer for DaySpring's popular "(in)courage" blog. Her writing is nationally syndicated and has been spotlighted in "Christianity Today" and McClatchy-Tribune News Services. She has served as a missionary, a ministry entrepreneur, and worked in high tech as an engineering and marketing program manager. A passionate speaker who inspires audiences to find God in everyday life, Bonnie lives in Silicon Valley with her husband, Eric, and their two sons. Learn more at www.faithbarista.com.