Fired Up (#02 in Trouble In Texas Series)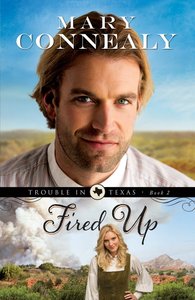 Rollicking Wild West Adventure and Romance from Bestselling Author Mary Connealy

Dare Riker is a doctor who saves lives, but someone seems determined to end his. It may have something to do with the traitors he dealt with during the Civil War, or it might be related to the recent incident with Flint Greer and the ranch. Whoever the culprit is, he or she seems really fired up, and Dare can't let his guard down for a moment, which is a challenge, since right now he's trying to win the heart of the recently widowed Glynna.

Glynna Greer came west as a mail-order bride and ended up in a bad situation. Now her husband, Flint, is dead, and she's determined to care for her son and daughter on her own. She wants to believe Dare Riker is as decent as he seems, but she's terrified to lock herself into another marriage. She plans to support her small family by opening a diner--never mind that cooking is not her greatest talent. The men in Broken Wheel, Texas, are so desperate for home cooking that they seem willing to overlook dried-out beef and blackened biscuits.

Glynna can't help but notice that danger follows Dare wherever he goes. There's the avalanche. And then the fire. But things really get out of hand when someone plunges a knife from Glynna's diner into Dare's back. Are Flint's cronies still plotting revenge? Is Glynna's son engaged in a misguided attempt to protect his mother? Is a shadowy outsider still enraged over past injustices? And can Dare survive long enough to convince Glynna to take another chance on love?

- Publisher
You May Also Be Interested In
About "Fired Up (#02 in Trouble In Texas Series)"
Rollicking Wild West Adventure and Romance from Bestselling Author Mary Connealy

Dare Riker is a doctor who saves lives, but someone seems determined to end his. It may have something to do with the traitors he dealt with during the Civil War, or it might be related to the recent incident with Flint Greer and the ranch. Whoever the culprit is, he or she seems really fired up, and Dare can't let his guard down for a moment, which is a challenge, since right now he's trying to win the heart of the recently widowed Glynna.

Glynna Greer came west as a mail-order bride and ended up in a bad situation. Now her husband, Flint, is dead, and she's determined to care for her son and daughter on her own. She wants to believe Dare Riker is as decent as he seems, but she's terrified to lock herself into another marriage. She plans to support her small family by opening a diner--never mind that cooking is not her greatest talent. The men in Broken Wheel, Texas, are so desperate for home cooking that they seem willing to overlook dried-out beef and blackened biscuits.

Glynna can't help but notice that danger follows Dare wherever he goes. There's the avalanche. And then the fire. But things really get out of hand when someone plunges a knife from Glynna's diner into Dare's back. Are Flint's cronies still plotting revenge? Is Glynna's son engaged in a misguided attempt to protect his mother? Is a shadowy outsider still enraged over past injustices? And can Dare survive long enough to convince Glynna to take another chance on love?
- Publisher


Meet the Author
Mary Connealy
"Mary Connealy " " " "Mary lives on a Nebraska ranch with her husband, Ivan, and has four grown daughters: Joslyn (married to Matt), Wendy, Shelly (married to Aaron), and Katy. And she is the grandmother of two beautiful grandchildren.
Customer Reviews For "Fired Up (#02 in Trouble In Texas Series)"
Write Your Own Review
1860's Christian Western Romance
By Iola,

Sep 20 2013
Fired Up has solid characters, an adventure-filled plot, a strong Christian message and is an easy if lightweight read from the Queen of the Christian Western. I enjoyed reading it, but can't say there was anything especially memorable about it, nor any reason to continue with the series. 

Fired Up is the sequel to Swept Away, which I have also reviewed. There's enough recap of the Swept Away story for Fired Up to be read as a stand-alone novel, although it's more enjoyable read as part of a series (it's possible there was too much recap, but I could hardly remember the first story so it was welcome). 

Thanks to Bethany House and NetGalley for providing a free ebook for review.
---
Great Fun
By Jessica R. Wakefield,

Sep 04 2013
I had just finished an awful book and was looking for something well written, engaging and in short - a good reason to read a book. So I picked up Fired Up. I knew from many other Mary Connealy books that it would be a solid read.

I loved it! I laughed like crazy in some points and almost chocked on my drink from laughter in a few other places. I was just so happy to read a well constructed, well written and funny book.  It was the perfect remedy for a disappointed reader. It improved my mood and made my like books again!

The friendship between the four men (Dare, Vince, Luke and Jonas) is great to see. They are like brothers and treat each other accordingly. Their respect for each other, women and their selflessness is a balm to Glynna's battered soul. They prove to her over and over that decent men exist - ones that don't lie, cheat or abuse - all while cracking jokes along the way.

Glynna's weary of falling in love again (well at least getting married again) but can't seem to fight her attraction to town doctor, Dare Riker. Disaster after disaster follows Dare and Glynna seems to always (happily for the most part) dive right in with the drama and action. She's learning to trust again and Dare's learning to be a patient man.

Mary's trademark wit leaps off the pages and brings joy in what has been a bit of a dreary time for me regarding the quality of books I've encountered. Don't worry, these dreary books are not being reviewed.

I'm not going to spend any more time here analyzing characters etc. There's no need. Things are simple (even in the complicated), funny and a this is a joy to read.

I can't wait to read Vince's story Mary! I nearly died laughing when he met Jonas' sister!
{{review.title}}
By {{review.author.name}},

{{review.reviewCreatedDate | date:'MMM dd yyyy'}}

{{reviewdescription}}
{{review.text}}
---
Other Titles In The "Trouble In Texas Series" Series