Firefly Island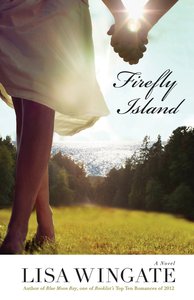 Lisa Wingate Is a Top Name in Inspirational Contemporary Romance

At thirty-four, congressional staffer Mallory Hale is about to embark on an adventure completely off the map. After a whirlwind romance, she is hopelessly in love with two men--fortunately, they're related. Daniel Everson and his little boy, Nick, are a package deal, and Mallory suddenly can't imagine her future without them.

Mallory couldn't be more shocked when Daniel asks her to marry him, move to Texas, and form a family with him and motherless Nick. The idea is both thrilling and terrifying.

Mallory takes a leap of faith and begins a sweet, mishap-filled journey into ranch living, Moses Lake society, and a marriage that at times reminds her of the mail-order-bride stories. But despite the wild adventure of her new life, she discovers secrets and questions beneath her rosy new life. Can she find answers on Firefly Island, a little chunk of property just off the lakeshore, where mysterious lights glisten at night?

- Publisher
You May Also Be Interested In
About "Firefly Island"
Lisa Wingate Is a Top Name in Inspirational Contemporary Romance

At thirty-four, congressional staffer Mallory Hale is about to embark on an adventure completely off the map. After a whirlwind romance, she is hopelessly in love with two men--fortunately, they're related. Daniel Everson and his little boy, Nick, are a package deal, and Mallory suddenly can't imagine her future without them.

Mallory couldn't be more shocked when Daniel asks her to marry him, move to Texas, and form a family with him and motherless Nick. The idea is both thrilling and terrifying.

Mallory takes a leap of faith and begins a sweet, mishap-filled journey into ranch living, Moses Lake society, and a marriage that at times reminds her of the mail-order-bride stories. But despite the wild adventure of her new life, she discovers secrets and questions beneath her rosy new life. Can she find answers on Firefly Island, a little chunk of property just off the lakeshore, where mysterious lights glisten at night?
- Publisher


Meet the Author
Lisa Wingate
Lisa Wingate lives with her husband and two sons in central Texas, where she is a popular writer and inspirational speaker. She grew up in Oklahoma and studied writing at Oklahoma State University. Author website: lisawingate.com.
Customer Reviews For "Firefly Island"
Write Your Own Review
Return to Moses Lake
By Jessica R Wakefield,

Feb 05 2013
I have really loved all the covers of Lisa Wingate's Moses Lake Series and this one is no exception. Beautiful cover, with an intriguing storyline to match. I was happily swept back to Moses Lake, trailing after Mallory, her new family and the U-Haul. I became equally suspicious of Jack West, Daniel's new boss. As intrigue swirls around Mallory and her family, as some people seem to be more than who they say they are, the questions Mallory has about herself grow deeper. As she learns about herself away from the safe, upper class neighborhood of Washington DC, she discovers how she judges others and herself, and how she can step outside of her comfort zone and grow into a woman who is capable of loving others and herself well for who they are not who they seem to be. This book made me think of how happy I am in my own comfort zone and maybe God is prodding me to step out and change things up a bit.

My only real problem with this book was at the end. It felt rushed and the climax never seemed to quite happen and it left me feeling a little empty. I needed a little more from the end of this book and didn't get it. Having said that, since book reviews are very personal, others may not feel that way. Besides my disappointment at the end of the book, I still loved going back to Moses Lake!
{{review.title}}
By {{review.author.name}},

{{review.reviewCreatedDate | date:'MMM dd yyyy'}}

{{reviewdescription}}
{{review.text}}
---