Firewall (#01 in Fbi Houston Series)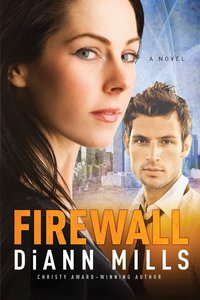 2015 Christy Award finalist!
2014 winner of a Genre Fiction award from Library Journal!
After a whirlwind romance, Taryn Young is preparing to board a plane at Houston International Airport, bound for a dream honeymoon, when a bomb decimates the terminal. Injured but still alive, she awakens to discover her husband is missing and they're both considered prime suspects in the attack. Further, the FBI is convinced her husband isn?t who he appears to be.

Agent Grayson Hall's number-one priority is to catch those responsible for the day's act of terror. All evidence is pointing to Taryn and her new husband. But his instinct tells him her pleas of innocence are genuine. Is her naivet just for show, or could she truly be another victim of a master scheme, possibly linked to the software she recently developed for her company?

With both their lives and reputations on the line, and the media outcry for justice increasing with each passing minute, Taryn and Grayson have no choice but to trust one another ... and pray they can uncover the truth before they become two more casualties.

- Publisher
You May Also Be Interested In
About "Firewall (#01 in Fbi Houston Series)"
2015 Christy Award finalist!
2014 winner of a Genre Fiction award from Library Journal!
After a whirlwind romance, Taryn Young is preparing to board a plane at Houston International Airport, bound for a dream honeymoon, when a bomb decimates the terminal. Injured but still alive, she awakens to discover her husband is missing and they're both considered prime suspects in the attack. Further, the FBI is convinced her husband isn?t who he appears to be.

Agent Grayson Hall's number-one priority is to catch those responsible for the day's act of terror. All evidence is pointing to Taryn and her new husband. But his instinct tells him her pleas of innocence are genuine. Is her naivet just for show, or could she truly be another victim of a master scheme, possibly linked to the software she recently developed for her company?

With both their lives and reputations on the line, and the media outcry for justice increasing with each passing minute, Taryn and Grayson have no choice but to trust one another ... and pray they can uncover the truth before they become two more casualties.
- Publisher


Meet the Author
Diann Mills
Award-winning author, DiAnn Mills, has over forty-nine books in print and has sold more than a million and a half copies. She is a finalist for the 2008 Christy Award for her novel, Lightning and Lace. Six of her anthologies have appeared on the CBA Best Seller List. Five of her books have won placements through ACFW's Book of the Year Awards 2003-2007. She is the recipient of the Inspirational Reader's Choice Award for 2005 and 2007. DiAnn and her husband have four adult sons and lives in Houston, Texas.
Customer Reviews For "Firewall (#01 in Fbi Houston Series)"
Write Your Own Review
Intriguing and excellent read
By Christine,

Oct 07 2017
This is the first DiAnn Mills novel I have read and I loved it.  Will definitely be buying more, you were hooked from the first page and the twists and turns throughout, made it a book you didn't want to put down. It was written with expertise and "who" was behind the murders was certainly not  obvious. I found her characters believable and likeable.  A very good and strong novel. Looking forward to reading more in the series  
---
Fast-Paced Action
By sarah,

Oct 03 2014
This is one of my new favourite books of the year. DiAnn weaves a masterful suspense plot, enthralling the reader from the first few pages. The novel is based around a highly skilled software developer and a terrorist plot to weaken the US. Consequences of our choices is a big theme throughout the book, and made me question my own unwise choices and the impact these can have not just on ourselves, but on our relationships with others and with God. 

The book touches on faith themes in a thoughtful and not overly preachy way. Twists and turns kept me gripped thoughout the novel and I had a hard time putting it down until the very end. Highly recommended!
---
Underwhelming
By Iola,

Jul 13 2014
There is something slightly 'off' about a romance plot in which one of the partners has only recently come out of a serious relationship (as in, serious enough that she married the guy).  I've read some excellent novels about second relationships, Firewall is not one of them. 

Taryn's emotions towards Grayson felt more like a bizarre kind of Stockholm Syndrome than real caring, and I didn't think her nave genius-level IT geek came across well. Bluntly, I found it difficult to care for her as a character. She felt more like a mash-up of clichs than a real person. Yes, I know this is fiction, but the beauty of great fiction is it makes me feel like I'm reading about real people. Firewall didn't.

Despite the relative failings of the romance, the suspense side of the plot was definitely up to standard. The finale was excellent, as it pulled of a huge plot twist that tied up all the ends of the suspense plot. However, this was not enough to squelch my 'yuk' factor around the 'romance' side of the plot. Firewall is not a book I'll be rereading. 

Thanks to Bethany House and NetGalley for providing a free ebook for review.
---
Grab You Suspence
By Rochelle, NSW,

Jul 02 2014
Grabbed by the story within the first few pages.
Taryn Young isn't going to give up on finding truth and justice or on finding the precious little Zoey.
Grayson Hall FBI agent with those piercing eyes is at first on guard against Taryn not only is she married but she's a suspect in a bombing....
This is a great story with a 'who done it' that will shock you.
Full of tragic events, betrayal, questions, comfort, faith found, determination, courage, and ultimately love it's another great book by Diann Mills.
Enjoy. 
{{review.title}}
By {{review.author.name}},

{{review.reviewCreatedDate | date:'MMM dd yyyy'}}

{{reviewdescription}}
{{review.text}}
---
Other Titles In The "Fbi Houston" Series View All