Fireworks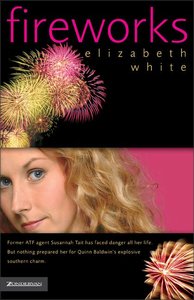 Former ATF agent Susannah Tait is out to prove that pyrotechnics genius Quinn Baldwin--whose special events company has been pegged to produce the festivities for the next presidential inauguration--is responsible for a million-dollar fireworks catastrophe during a Mardi Gras ball. With her faithful black Lab, Monty--a retired explosives task force animal--Susannah moves to the charming backwater city of Mobile, Alabama, to uncover the truth. On the pretext of researching for a doctoral thesis, Susannah suffers herself to be dragged to church, ministry projects, and gargantuan southern dinners--all in the name of thorough investigation. But this world traveled military brat with a string of letters behind her name finds herself wholly unprepared to navigate the cultural quagmires of the Deep South. Everyone she interviews, from local ATF agents to Azalea Trail Maids, seems to speak a foreign language.Captivated by the unexpected warmth and joy of her new circle of friends, Susannah st

- Publisher Susannah is out to prove that pyrotechnics genius Quinn Baldwinis responsible for a million-dollar fireworks catastrophe during a Mardi Gras ball. With her faithful black Lab Monty she moves to the charming backwater city of Mobile, Alabama to uncover the truth. But this world-traveled military brat with a string of letters behind her name finds herself wholly unprepared to navigate the cultural quagmires of the Deep South. Captivated by the warmth and joy of her new circle of friends, Susannah struggles to keep from falling for a subject who refuses to be anything but a man of integrity, compassion, and lethal Southern charm. Fireworks offers a glimpse into heart of the South and a cynical young woman's first encounter with Christ-like love.

- Publisher
You May Also Be Interested In
About "Fireworks"
Former ATF agent Susannah Tait is out to prove that pyrotechnics genius Quinn Baldwin--whose special events company has been pegged to produce the festivities for the next presidential inauguration--is responsible for a million-dollar fireworks catastrophe during a Mardi Gras ball. With her faithful black Lab, Monty--a retired explosives task force animal--Susannah moves to the charming backwater city of Mobile, Alabama, to uncover the truth. On the pretext of researching for a doctoral thesis, Susannah suffers herself to be dragged to church, ministry projects, and gargantuan southern dinners--all in the name of thorough investigation. But this world traveled military brat with a string of letters behind her name finds herself wholly unprepared to navigate the cultural quagmires of the Deep South. Everyone she interviews, from local ATF agents to Azalea Trail Maids, seems to speak a foreign language.Captivated by the unexpected warmth and joy of her new circle of friends, Susannah st
- Publisher

Susannah is out to prove that pyrotechnics genius Quinn Baldwinis responsible for a million-dollar fireworks catastrophe during a Mardi Gras ball. With her faithful black Lab Monty she moves to the charming backwater city of Mobile, Alabama to uncover the truth. But this world-traveled military brat with a string of letters behind her name finds herself wholly unprepared to navigate the cultural quagmires of the Deep South. Captivated by the warmth and joy of her new circle of friends, Susannah struggles to keep from falling for a subject who refuses to be anything but a man of integrity, compassion, and lethal Southern charm. Fireworks offers a glimpse into heart of the South and a cynical young woman's first encounter with Christ-like love.
- Publisher


Meet the Author
Elizabeth White
Elizabeth White (www.elizabethwhite.net) is the author of Controlling Interest, Off the Record, Fair Game, Fireworks, and the Texas Gatekeepers series for Steeple Hills Love Inspired Suspense line. She lives in Mobile, Alabama. Her latest title is Tour de Force
Excerpt
Excerpt from: Fireworks
Fireworks c h a p t e r 1 Quinn Baldwin dove for the pier at Clayton Brothers Drydocks and decided it would be a good thing if Jesus just came to take him on home. The sooner the better. Another Roman candle whizzed over his head and detonated like the crack of doom. Dear Lord, please let the crew be okay. He squinted across the river. Phillip and Russ were probably halfway through the Bankhead Tunnel by now, on their suppertime quest for hot wings. Please let them be --- A stupendous concussion smashed his face against the pier again, jamming his goggles into his cheekbone. Flashes of light zigzagged like laser beams over his head, and the acrid stench of sulfur stung his nose. And Rebecca and Skeet! Ten minutes ago they were sitting on the tailgate of the truck, arguing over who was going to win the NCAA basketball championship next week. But now? He shuddered, thinking what might have happened to them. Okay, take another look. Gotta be angels around me. Don't seem to be dead yet. He peered over his shoulder. Smoke from the equipment truck --- orange and red and yellow --- looked like an illustration from Dante's Inferno. Brain's whacked. What a time for senior English to resurface. A strobe shell pierced the fog, and he covered his head. Boom followed boom followed boom, numbing his ears. More jags of light. More violent jolts. He clung to the pier, praying for the shaking to stop. For a split second he considered jumping into the river. But the current was too strong. He'd be slammed into a ship docked downriver or swept into the bay. Maybe speared by one of the trees growing out from the shore. Better take his chances here. For an eternity, he lay still. Finally the explosions died and the pier stopped quaking. Shaking, he got up on his knees. Thank God the river breeze carried away some of the smoke, or he would have suffocated. He coughed, then crawled away from the end of the pier until his hand hit cold, grassy mud. 'Skeet!' His voice came out in a croak. 'Rebecca! Where are you?' Then with sickening clarity it hit him. His show had just exploded in a blaze of premature, misdirected glory. Twenty-thousand dollars' worth of handmade Chinese fireworks destroyed in a burning, blackened, smoking mess. And more still going off in crimson wagon wheels, saffron-yellow glitter palms, green fountains streaking across the river toward the --- 'Oh, no!' He stood up without thinking. The fireworks he'd designed as entertainment for a Mardi Gras charity ball were now headed, with the precision of an assault rifle, straight across the river. Straight toward the eight-story glass front of the Mobile Convention Center. There wasn't a thing he could do about it. The wail of sirens split the night. Quinn turned toward the road. Two unmistakable silhouettes were jumping around on top of the hill like Disney Fantasia characters --- Skeet Lawrence, his friend and part-time employee, and Rebecca Mansfield, his assistant. 'Thank you, Lord,' he breathed. Suddenly a shower of sparks rained down. The smell of singed hair closed his nostrils. If he didn't run, he was going to catch fire. Staggering toward the road, he dodged sparks spewing sideways from an overturned row of mortar tubes. A burst of adrenaline hit, and he tore up the hill. At the same time, two fire trucks barreled into the gravel driveway between Clancy Brothers' and the field. Firefighters swarmed off the truck. One grabbed Quinn's arm. 'Hey, man, you all right?' he shouted over the boom of exploding shells. 'Anybody else over there?' 'No, just me. I'm okay.' Quinn bent double, coughing. 'You've got to stop it before it hits the --- ' a crashing explosion and a sudden burst of flames across the river lit up the sky --- 'Convention Center,' he finished weakly. 'Too late.' The fireman grabbed his radio. 'Dispatch, you better get trucks headed for Water Street on the double.' Quinn heard no more as the fireman ran after the others. Rebecca got to Quinn before he reached the top of the hill. 'I thought you were dead!' she screamed, all but strangling him. 'Why are you not dead?' 'Hey, are you all right?' Skeet bounded down the hill and pounded Quinn on the back until his teeth rattled. 'I'm okay, I'm okay. Would you two stop?' 'Sorry, man.' Skeet backed off. Rebecca smeared at tears with the side of her hand. 'Quinn, your face is bleeding.' 'I'll be okay.' He removed his hard hat, goggles, and gloves, then turned to look at the scene of destruction. One last crossette shell screamed across the river, bursting into a hundred shimmering golden streams just before it pasted the wharf in front of the Convention Center. In the distance a second pair of fire trucks' sirens wailed as they pulled up close to the building. Firemen jumped from the trucks, rushing to connect their hoses. Squinting toward the park adjoining the Convention Center, Quinn could make out the antlike figures of people running from the building. People in tuxes and evening gowns who had paid him a lot of money to entertain them with a fireworks show. A couple of national political campaign directors who were considering booking him for summer campaign events. This wasn't exactly the show they had expected. Quinn's stomach lurched. Even if nobody had been hurt --- and he prayed they hadn't --- he had just effectively bombed a major public building. Probably incurred thousands of dollars' worth of damage. Oh, God, maybe millions. His truck was gone. His computers fried. His reputation might as well be at the bottom of the river. Overcome, he collapsed between Rebecca and Skeet to watch the firemen dousing the whole area with water. A rumble of thunder rolled across the sky, echoing his black depression. Right before that first Roman candle went off, he'd stood on the Clancy Brothers' pier asking God to hold off the rain. Overcast was good; a black sky made a nice backdrop for the fireworks. But a storm would make the crew miserable and chase away the crowd. Now he hoped it would rain. Keep the fire from spreading to the buildings nearby.