First and Second Peter, James and Jude (Interpretation Bible Commentaries Series)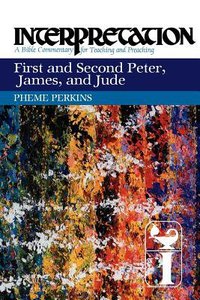 First and Second Peter, James, and Jude have existed on the edges of the canon throughout the centuries. In this volume in the Interpretation series, Pheme Perkins casts light on these often neglected writings. She ably demonstrates that these "catholic epistles" have, in fact, much to offer to today's readers.

- Publisher
Also Available In
You May Also Be Interested In
About "First and Second Peter, James and Jude (Interpretation Bible Commentaries Series)"
First and Second Peter, James, and Jude have existed on the edges of the canon throughout the centuries. In this volume in the Interpretation series, Pheme Perkins casts light on these often neglected writings. She ably demonstrates that these "catholic epistles" have, in fact, much to offer to today's readers.
- Publisher


Meet the Author
Pheme Perkins
Pheme Perkins (Ph.D., Harvard University) is professor of New Testament in the Theology Department at Boston College. Among her many published books are Reading the New Testament; Gnosticism and the New Testament; Galatians; Ephesians (Abingdon New Testament Commentary) and the Politics of Faith and Peter: Apostle for the Whole Church and most recently Introduction to the Synoptic Gospels.
Other Titles In The "Interpretation Bible Commentaries" Series View All