First and Second Peter (Paideia Commentaries On The New Testament Series)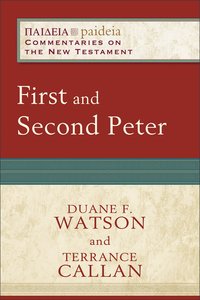 In this addition to the well-received Paideia series, New Testament scholars Duane Watson and Terrance Callan examine cultural context and theological meaning in First and Second Peter. Paideia commentaries explore how New Testament texts form Christian readers by

• attending to the ancient narrative and rhetorical strategies the text employs
• showing how the text shapes theological convictions and moral habits
• commenting on the final, canonical form of each New Testament book
• focusing on the cultural, literary, and theological settings of the text
• making judicious use of maps, photos, and sidebars in a reader-friendly format

This commentary, like each in the projected eighteen-volume series, proceeds by sense units rather than word-by-word or verse-by-verse. Students, pastors, and other readers will appreciate the historical, literary, and theological insight Watson and Callan offer in interpreting First and Second Peter.

- Publisher
You May Also Be Interested In
About "First and Second Peter (Paideia Commentaries On The New Testament Series)"
In this addition to the well-received Paideia series, New Testament scholars Duane Watson and Terrance Callan examine cultural context and theological meaning in First and Second Peter. Paideia commentaries explore how New Testament texts form Christian readers by

• attending to the ancient narrative and rhetorical strategies the text employs
• showing how the text shapes theological convictions and moral habits
• commenting on the final, canonical form of each New Testament book
• focusing on the cultural, literary, and theological settings of the text
• making judicious use of maps, photos, and sidebars in a reader-friendly format

This commentary, like each in the projected eighteen-volume series, proceeds by sense units rather than word-by-word or verse-by-verse. Students, pastors, and other readers will appreciate the historical, literary, and theological insight Watson and Callan offer in interpreting First and Second Peter.
- Publisher


Meet the Authors
Duane F Watson
Duane F. Watson (PhD., Duke University) is professor of New Testament studies at Malone College, Canton, Ohio. He is also the author of Invention, Arrangement, and Style: Rhetorical Criticism of Jude and 2 Peter, I-III John (New Cambridge Bible Commentary), 1 Peter (Paideia Commentaries on the New Testament),Philippians and Johannine Epistles (Rhetoric of Religious Antiquity), editor of Persuasive Artistry: Studies in New Testament Rhetoric, and co-author of Rhetorical Criticism of the Bible: A Comprehensive Bibliography with Notes on History and Method..
Terrance Callan
Terrance Callan, who holds a PhD from Yale University, is professor of biblical studies/dean of special studies at The Athenaeum of Ohio. He is the author of The Origins of Christian Faith (Paulist Press) and Psychological Perspectives on the Life of Paul (Edwin Mellen).
Other Titles In The "Paideia Commentaries On The New Testament Series" Series View All
$65.00




Available 0 Available. Expected to ship in 1 week from Australia.

Formats

$65.00




Available 0 Available. Expected to ship in 1 week from Australia.

Formats