First Corinthians (Paideia Commentaries On The New Testament Series)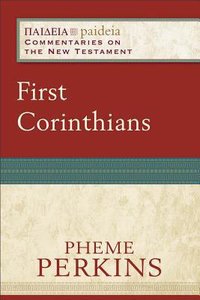 In this addition to the well-received Paideia series, a respected New Testament scholar examines cultural context and theological meaning in First Corinthians. Paideia commentaries explore how New Testament texts form Christian readers by

• attending to the ancient narrative and rhetorical strategies the text employs
• showing how the text shapes theological convictions and moral habits
• commenting on the final, canonical form of each New Testament book
• focusing on the cultural, literary, and theological settings of the text
• making judicious use of maps, photos, and sidebars in a reader-friendly format

Students, pastors, and other readers will appreciate the historical, literary, and theological insight Pheme Perkins offers in interpreting First Corinthians.

- Publisher
You May Also Be Interested In
About "First Corinthians (Paideia Commentaries On The New Testament Series)"
In this addition to the well-received Paideia series, a respected New Testament scholar examines cultural context and theological meaning in First Corinthians. Paideia commentaries explore how New Testament texts form Christian readers by

• attending to the ancient narrative and rhetorical strategies the text employs
• showing how the text shapes theological convictions and moral habits
• commenting on the final, canonical form of each New Testament book
• focusing on the cultural, literary, and theological settings of the text
• making judicious use of maps, photos, and sidebars in a reader-friendly format

Students, pastors, and other readers will appreciate the historical, literary, and theological insight Pheme Perkins offers in interpreting First Corinthians.
- Publisher


Meet the Author
Pheme Perkins
Pheme Perkins (Ph.D., Harvard University) is professor of New Testament in the Theology Department at Boston College. Among her many published books are Reading the New Testament; Gnosticism and the New Testament; Galatians; Ephesians (Abingdon New Testament Commentary) and the Politics of Faith and Peter: Apostle for the Whole Church and most recently Introduction to the Synoptic Gospels.
Table Of Contents
Foreword
introduction
letter Opening (1 Corinthians 1:1-9)
god's Wisdom Is Contrary To Human Standards (1 Corinthians 1:10-2:16)
paul And Apollos As Examples (1 Corinthians 3:1-4:21)
reports Of Unholy Conduct By Believers (1 Corinthians 5:1-6:20)
questions In A Letter From Corinth (1 Corinthians 7:1-11:1)
problems In The Worshiping Assembly (1 Corinthians 11:2-14:40)
some Deny That The Dead Are Raised (1 Corinthians 15:1-58)
letter Conclusion (1 Corinthians 16:1-24)
indexes
Other Titles In The "Paideia Commentaries On The New Testament Series" Series View All
$65.00




Available 0 Available. Expected to ship in 1 week from Australia.

Formats