First Steps in the Way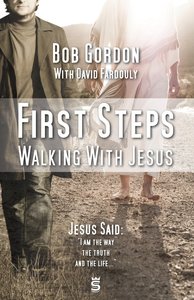 Now available as a free eBook! Download the Mobipocket version to read on your Kindle. Download the ePub version to read on Apple, Sony and many other eReaders, including your PC or Mac. To read on your PC and Mac you will need to download the free Adobe Digital Editions eReader software.About the BookJesus calls us to be His disciples, which means that we take seriously our commitment to follow Him for the rest of our lives. Becoming a true Christian is more than saying a prayer of commitment or attending a church service; it is living a life that is pleasing to God.First Steps outlines ten basic essentials for any new Christian's growth and maturity as they begin to walk with God.This book will enable you to share your own faith and will of great help to those inquiring about the Christian life.

- Publisher
You May Also Be Interested In
About "First Steps in the Way"
Now available as a free eBook! Download the Mobipocket version to read on your Kindle. Download the ePub version to read on Apple, Sony and many other eReaders, including your PC or Mac. To read on your PC and Mac you will need to download the free Adobe Digital Editions eReader software.About the BookJesus calls us to be His disciples, which means that we take seriously our commitment to follow Him for the rest of our lives. Becoming a true Christian is more than saying a prayer of commitment or attending a church service; it is living a life that is pleasing to God.First Steps outlines ten basic essentials for any new Christian's growth and maturity as they begin to walk with God.This book will enable you to share your own faith and will of great help to those inquiring about the Christian life.
- Publisher


Meet the Author
Bob Gordon
Gordon was an internationally respected Bible teacher and evangelist who sadley dies in September 1997. He was a graduate of the Manchester University School of Biblical Studies and a former lecturer in Old Testament studies at the London Bible College. He established Proclaimers International.