First Steps Through Insomnia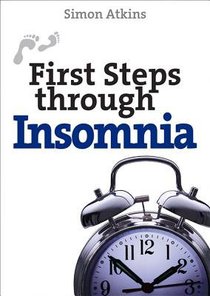 In this short but comprehensive book, Dr. Simon Atkins tackles the causes of sleeplessness, and what we can do about it. Full of practical tips and ideas, this book will be the start of a proper nighte(tm)s sleep. Research suggests that over half of us have bouts of insomnia and that persistent sleep deprivation can increase the risk of conditions such as diabetes, depression and high blood pressure. The University of British Columbia suggests that every hour of sleep lost at night may cost us one IQ point the following day. And it is often a long-term issue: a quarter of people with insomnia have suffered from it for more than 10 years. 'First Steps' is a successful series of short, affordable self-help books on a range of key topics. Other titles in the series include: Menopause, Divorce, Weight Problems, Anxiety, Bereavement, Depression, Eating Disorders, Problem Gambling and Problem Drinking..

- Publisher
You May Also Be Interested In
About "First Steps Through Insomnia"
In this short but comprehensive book, Dr. Simon Atkins tackles the causes of sleeplessness, and what we can do about it. Full of practical tips and ideas, this book will be the start of a proper nighte(tm)s sleep. Research suggests that over half of us have bouts of insomnia and that persistent sleep deprivation can increase the risk of conditions such as diabetes, depression and high blood pressure. The University of British Columbia suggests that every hour of sleep lost at night may cost us one IQ point the following day. And it is often a long-term issue: a quarter of people with insomnia have suffered from it for more than 10 years. 'First Steps' is a successful series of short, affordable self-help books on a range of key topics. Other titles in the series include: Menopause, Divorce, Weight Problems, Anxiety, Bereavement, Depression, Eating Disorders, Problem Gambling and Problem Drinking..
- Publisher


Meet the Author
Simon Atkins
Simon Atkins is a GP in a busy practice, but also a prolific author, and has been a freelance medical journalist since 1996. He presented the BBC3 series Make Me a Baby, and has spoken on various medical issues on radio. He has also written for the Guardian, GQ, Take a break and Menrsquo;s Health.