First-Time Mom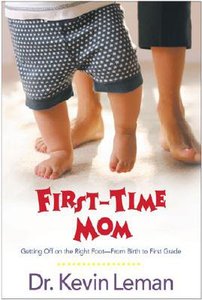 Wish your child came with an owner - A?A?s manual?First-Time Mom offers just that - A?A?practical guidance and insight on raising your first child - A?A?with the right touch of humor, too. Parenting expert Dr. Kevin Leman reveals how you can not only - A?A?get through - A?A? those first ten exhausting, transitional days, but also create a lifetime bond of emotional security. He explains the differences in the parenting styles of firstborns, middleborns, and lastborns, helping you identify your own strengths and weaknesses.Whether you - A?A?ve received your incredible gift through birth or adoption, becoming a parent is the most significant task you - A?A?ll ever undertake. So raise your firstborn right - A?A?with confidence and a positive parenting experience. Then watch your child change the world!

- Publisher If you feel nervous about this new role of parenthood (and who wouldn't?), Dr. Kevin Leman will put you at ease. While affirming your joy, wonder, and fear, "First-Time Mom" prepares you for this influential task by sharing the essentials of child-raising, including the personality traits and typical interactions you can expect to have with your first child. Now available in softcover.

- Publisher
You May Also Be Interested In
About "First-Time Mom"
Wish your child came with an owner - A?A?s manual?First-Time Mom offers just that - A?A?practical guidance and insight on raising your first child - A?A?with the right touch of humor, too. Parenting expert Dr. Kevin Leman reveals how you can not only - A?A?get through - A?A? those first ten exhausting, transitional days, but also create a lifetime bond of emotional security. He explains the differences in the parenting styles of firstborns, middleborns, and lastborns, helping you identify your own strengths and weaknesses.Whether you - A?A?ve received your incredible gift through birth or adoption, becoming a parent is the most significant task you - A?A?ll ever undertake. So raise your firstborn right - A?A?with confidence and a positive parenting experience. Then watch your child change the world!
- Publisher

If you feel nervous about this new role of parenthood (and who wouldn't?), Dr. Kevin Leman will put you at ease. While affirming your joy, wonder, and fear, "First-Time Mom" prepares you for this influential task by sharing the essentials of child-raising, including the personality traits and typical interactions you can expect to have with your first child. Now available in softcover.
- Publisher


Meet the Author
Kevin Leman
Dr. Kevin Leman, an internationally known psychologist, radio and television personality, and speaker, has taught and entertained audiences worldwide with his wit and commonsense psychology.

The best-selling and award-winning author has made house calls for hundreds of radio and television programs, including The View with Barbara Walters, The Today Show, Oprah, CBS's The Early Show, Live with Regis Philbin, CNN's American Morning, and LIFE Today with James Robison, and he has served as a contributing family psychologist to Good Morning America.

He is the founder and president of Couples of Promise, an organization designed and committed to helping couples remain happily married. Dr. Leman is also a charter faculty member of iQuestions.com.

He has written over 50 best-selling books about marriage and family issues, including The Birth Order Book and Sheet Music: Uncovering the Secrets of Sexual Intimacy in Marriage.

Dr. Leman was born in 1943 in Tucson, Arizona, and earned his degree in psychology from the University of Arizona. He and his wife, Sande, make their home in Tucson. They have been married since 1967, and have five adult children.