Five Little Questions That Reveal the Life God Designed For You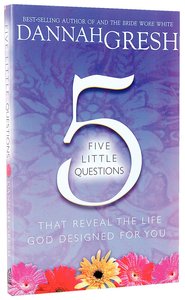 When the alarm clock goes off, do you dread the day-hopelessly enslaved to a schedule that strangles the life out of your passions?
Take heart, you're not alone - not even close.
Five little questions. That's all it takes. "I have five questions to ask you," writes Dannah Gresh. "I truly believe that if you slow down and answer them thoroughly, you'll have an action plan to live in the fulfilling and adventuresome life that God designed for you."
In this book, Dannah shows you how she found freedom from an over-busy, under-productive life to one that influences thousands. Her practical, doable steps help you move from an exhausting life to an exhilarating one. Five Little Questions That Reveal the Life God Designed for You includes real-life stories about Condoleezza Rice, Mary Beth Chapman, Donna VanLiere, Amy Grant, and others.

"For the woman who wants to reach her potential . . . I highly recommend this book."
- Gary D. Chapman, Ph.D., Author, The Five Love Languages and The Five Languages of Apology

"I started out reading Dannah's book for an endorsement and ended up reading it for me. What a life-changing concept."
- Shaunti Feldhahn, Author, For Women Only and For Young Women Only

"Dannah Gresh is one of the most insightful authors writing today."
- Anita Lustrea, Host, Midday Connection

"Women today are running themselves ragged in the pursuit to find meaning and purpose in life . . . Dannah has penned a prescription for what ails women today!"
- Vicki Courtney, Speaker and best-selling author, Your Girl and TeenVirtue

"Sometimes it's not a matter of having all the right answers but knowing what questions to ask. Dannah helps you identify the questions . . ."
- Lisa Ryan, Speaker; cohost and reporter, InTouch Ministries and 700 Club; and author, For Such a Time as This


- Publisher 1. Do I Need A Fresh Infusion Of Grace 2. Am I Using My Spiritual Gifts 3. Am I Working In Agreement With My Created Personality 4. Am I Enjoying God 5. Am I Glorifying God

- Publisher
You May Also Be Interested In
About "Five Little Questions That Reveal the Life God Designed For You"
When the alarm clock goes off, do you dread the day-hopelessly enslaved to a schedule that strangles the life out of your passions?
Take heart, you're not alone - not even close.
Five little questions. That's all it takes. "I have five questions to ask you," writes Dannah Gresh. "I truly believe that if you slow down and answer them thoroughly, you'll have an action plan to live in the fulfilling and adventuresome life that God designed for you."
In this book, Dannah shows you how she found freedom from an over-busy, under-productive life to one that influences thousands. Her practical, doable steps help you move from an exhausting life to an exhilarating one. Five Little Questions That Reveal the Life God Designed for You includes real-life stories about Condoleezza Rice, Mary Beth Chapman, Donna VanLiere, Amy Grant, and others.

"For the woman who wants to reach her potential . . . I highly recommend this book."
- Gary D. Chapman, Ph.D., Author, The Five Love Languages and The Five Languages of Apology

"I started out reading Dannah's book for an endorsement and ended up reading it for me. What a life-changing concept."
- Shaunti Feldhahn, Author, For Women Only and For Young Women Only

"Dannah Gresh is one of the most insightful authors writing today."
- Anita Lustrea, Host, Midday Connection

"Women today are running themselves ragged in the pursuit to find meaning and purpose in life . . . Dannah has penned a prescription for what ails women today!"
- Vicki Courtney, Speaker and best-selling author, Your Girl and TeenVirtue

"Sometimes it's not a matter of having all the right answers but knowing what questions to ask. Dannah helps you identify the questions . . ."
- Lisa Ryan, Speaker; cohost and reporter, InTouch Ministries and 700 Club; and author, For Such a Time as This

- Publisher

1. Do I Need A Fresh Infusion Of Grace 2. Am I Using My Spiritual Gifts 3. Am I Working In Agreement With My Created Personality 4. Am I Enjoying God 5. Am I Glorifying God
- Publisher


Meet the Author
Dannah Gresh
Dannah Gresh, a mother/daughter communication coach, has sold well over three quarters of a million copies of her books including And the Bride Wore White and 2008's best-selling CBA youth book, Lies Young Women Believe (coauthored with Nancy Leigh DeMoss) - making her one of the most successful Christian authors targeting teens and preteens.
With the belief that today's culture has been seeking to rob little girls of their innocence, Dannah has been fighting on the front lines to protect them. Her fun line of Secret Keeper Girl mom/preteen daughter connecting resources and live events that tour the country provide moms with just the right tools to fight back.
She has long been at the forefront of the movement to encourage both tweens and teens to pursue purity and is often called upon to defend the conservative position of abstinence in national news media like USA Today, Time, Chicago Tribune, and Women's Wear Daily. She is also a frequent contributor to FamilyLife Today, Midday Connection, and Focus on the Family.
Dannah lives in State College, Pennsylvania, with her husband, Bob, and their children, Robby, Lexi, and Autumn, whom the family adopted from China in 2007. She and her husband founded Grace Prep, a new model in Christian high school education, which Bob administrates. She is shamelessly in love with her labradoodle, Stormie. (DannahGresh.com)