Five Miles South of Peculiar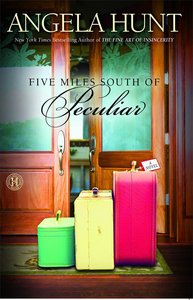 If these three sisters don't change direction, they'll end up where they're going.

Darlene Caldwell has spent a lifetime tending Sycamores, an estate located five miles south of a small town called Peculiar. She raised a family in the spacious home that was her grandfather's legacy, and she enjoys being a pillar of the community. Sycamores is the kingdom where she reigns as queen ... until her limelight-stealing twin sister unexpectedly returns.

Carlene Caldwell, veteran of the Broadway stage, is devastated when she realizes that an unsuccessful throat surgery has spelled the end of her musical career. Searching for a new purpose in life, she retreats to Sycamores, her childhood home. She may not be able to sing, but she hopes to use her knowledge and experience to fashion a new life in Peculiar, the little town she left behind.

Haunted by a tragic romance, Magnolia Caldwell is the youngest of the Caldwell girls. Nolie has never wanted to live anywhere but Sycamores. She spends her days caring for her dogs and the magnificent gardens she's created on the estate, but when she meets a man haunted by his own tragedy, she must find the courage to either deny her heart or cut the apron strings that tie her to a dear and familiar place.

Can these sisters discover who they are meant to be when life takes an unforeseen detour? In a season of destiny, three unique women reunite and take unexpected journeys of the heart.

- Publisher
You May Also Be Interested In
About "Five Miles South of Peculiar"
If these three sisters don't change direction, they'll end up where they're going.

Darlene Caldwell has spent a lifetime tending Sycamores, an estate located five miles south of a small town called Peculiar. She raised a family in the spacious home that was her grandfather's legacy, and she enjoys being a pillar of the community. Sycamores is the kingdom where she reigns as queen ... until her limelight-stealing twin sister unexpectedly returns.

Carlene Caldwell, veteran of the Broadway stage, is devastated when she realizes that an unsuccessful throat surgery has spelled the end of her musical career. Searching for a new purpose in life, she retreats to Sycamores, her childhood home. She may not be able to sing, but she hopes to use her knowledge and experience to fashion a new life in Peculiar, the little town she left behind.

Haunted by a tragic romance, Magnolia Caldwell is the youngest of the Caldwell girls. Nolie has never wanted to live anywhere but Sycamores. She spends her days caring for her dogs and the magnificent gardens she's created on the estate, but when she meets a man haunted by his own tragedy, she must find the courage to either deny her heart or cut the apron strings that tie her to a dear and familiar place.

Can these sisters discover who they are meant to be when life takes an unforeseen detour? In a season of destiny, three unique women reunite and take unexpected journeys of the heart.
- Publisher


Meet the Author
Angela Elwell Hunt
ANGELA ELWELL HUNT has written several children's books. Her retelling of The Tale of Three Trees has become an international best seller. She lives in Florida, USA. TIM JONKE has been illustrating books for many years and his other successes include A Night the Stars Danced for Joy and The Easter Angels, both published by Lion.
Customer Reviews For "Five Miles South of Peculiar"
Write Your Own Review
A Sweet Story of Three Sisters
By Iola,

Jun 20 2012
Magnolia Caldwell lives in the family estate of Sycamores, located five miles south of a small town called Peculiar, in Jackson County, Florida. Nolie lives with her sister, Darlene, and two large dogs, and is pretty satisfied with her life but there are changes on the way. The Sycamores estate will soon revert to town ownership, and the homeless and divorced Reverend Eric Payne is offered a room in exchange for maintenance services. More surprising, Darlene's twin sister, Carlene, is about to return home after a throat surgery destroys her singing voice and Broadway career. The twins are about to turn fifty, and Nolie is working with the town mayor to plan the party.

As the story progresses, we find that each of the sisters is hiding a secret. Darlene is jealous of her successful twin, and the sacrifices she made for Carlene. Meanwhile, Carlene is jealous of Darlene's marriage to Griff, and can only bear visiting Sycamores now that Griff has been dead for five years. And Nolie has never quite recovered from being left at the altar many years ago, so spends her time walking her dogs and sewing aprons for all the women in town. Once I got into it, I found Five Miles South of Peculiar revealed itself to be an enjoyable and sometimes humorous novel, with twin themes of forgiveness and choices. Nolie shows us that a lot of our happiness in life is around the choices we make, particularly the way we choose to react to things that affect us. While those things can hurt, we have to make the decision to forgive and move on, to be happy.

Thanks to Howard Paperback and NetGalley for providing a free ebook for review.

{{review.title}}
By {{review.author.name}},

{{review.reviewCreatedDate | date:'MMM dd yyyy'}}

{{reviewdescription}}
{{review.text}}
---