Five Views: Justification (Spectrum Series)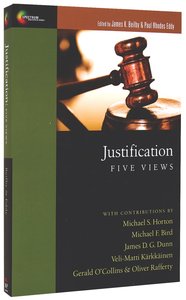 "Therefore, since we have been justified by faith, we have peace with God through our Lord Jesus Christ" (Rom 5:1).

When Paul wrote these words he seemed confident he had made himself clear. But for centuries the Pauline doctrine of justification has been a classic point of interpretation and debate in Christian exegesis and theology. And while in recent decades there have been moments of hopeful convergence among the various traditions of the Western church, the fine print often reveals more facets and distinctions than ever before.

This volume focuses on five views of justification and calls on representative proponents to set forth their case and then respond to each other. The five views are:
Traditional Reformed (Michael S. Horton), Progressive Reformed (Michael F. Bird), New Perspective (James D. G. Dunn), Deification, or Theosis (Veli-Matti Kfdrkkfdinen), Roman Catholic (Gerald O'Collins and Oliver Rafferty).

In addition, editors James Beilby, Paul R. Eddy and Steven E. Enderlein provide an extensive introduction to the issues informing this important debate. This distinguished forum of biblical interpreters and theologians offers a lively and informative engagement with the biblical, historical and contemporary understandings of justification. Justification: Five Views is not only a fascinating probe into Paul's meaning, it is also a case book in theological method.



- Publisher
You May Also Be Interested In
About "Five Views: Justification (Spectrum Series)"
"Therefore, since we have been justified by faith, we have peace with God through our Lord Jesus Christ" (Rom 5:1).

When Paul wrote these words he seemed confident he had made himself clear. But for centuries the Pauline doctrine of justification has been a classic point of interpretation and debate in Christian exegesis and theology. And while in recent decades there have been moments of hopeful convergence among the various traditions of the Western church, the fine print often reveals more facets and distinctions than ever before.

This volume focuses on five views of justification and calls on representative proponents to set forth their case and then respond to each other. The five views are:
Traditional Reformed (Michael S. Horton), Progressive Reformed (Michael F. Bird), New Perspective (James D. G. Dunn), Deification, or Theosis (Veli-Matti Kfdrkkfdinen), Roman Catholic (Gerald O'Collins and Oliver Rafferty).

In addition, editors James Beilby, Paul R. Eddy and Steven E. Enderlein provide an extensive introduction to the issues informing this important debate. This distinguished forum of biblical interpreters and theologians offers a lively and informative engagement with the biblical, historical and contemporary understandings of justification. Justification: Five Views is not only a fascinating probe into Paul's meaning, it is also a case book in theological method.


- Publisher


Meet the Authors
James Beilby
James K. Beilby (Ph.D., Marquette University) is associate professor of systematic and philosophical theology at Bethel University in St. Paul, Minnesota. His books include Why Bother With Truth? (with David Clark), Divine Foreknowledge: Four Views (with Paul Eddy), Naturalism Defeated?, For Faith and Clarity and Epistemology as Theology.
Paul R Eddy (Ed)
Paul R. Eddy (Ph.D., Marquette University) is Professor of Theology at Bethel University in St. Paul, Minnesota. His books include John Hick's Pluralist Philosophy of World Religions (Ashgate), Across the Spectrum: Understanding Issues in Evangelical Theology (with Gregory A. Boyd, Baker), Divine Foreknowledge: Four Views and The Nature of the Atonement (both with James Beilby and from IVP), and most recently Lord or Legend? Wrestling with the Jesus Dilemma and The Jesus Legend: A Case for the Historical Reliability of the Synoptic Jesus Tradition (both with Gregory A. Boyd and from Baker).
Table Of Contents
Abbreviations

Preface

Part One: Introduction

Paul Rhodes Eddy, James K. Beilby And Steven E. Enderlein

1. Justification In Historical Perspective

2. Justification In Contemporary Debate

Part Two: Five Views Of Justification

1. Traditional Reformed

Michael S. Horton

Responses:

Progressive Reformed

New Perspective

Deification

Roman Catholic

2. Progressive Reformed

Michael F. Bird

Responses:

Traditional Reformed

New Perspective

Deification

Roman Catholic

3. New Perspective

James D. G. Dunn

Responses:

Traditional Reformed

Progressive Reformed

Deification

Roman Catholic

4. Deification

Veli-matti Krkkinen

Responses:

Traditional Reformed

Progressive Reformed

New Perspective

Roman Catholic

5. Roman Catholic

Gerald O'collins S.j. And Oliver P. Rafferty

Responses:

Traditional Reformed

Progressive Reformed

New Perspective

Deification

Contributors

Author And Subject Index

Scripture Index
Other Titles In The "Spectrum Series" Series View All