Fools Rush in (#01 in Weddings By Bella Series)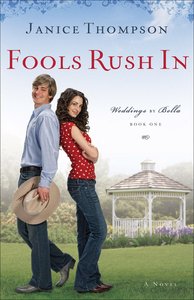 Bella Rossi may be nearing thirty, but her life is just starting to get interesting. When her Italian-turned-Texan parents hand over the family wedding planning business, Bella is determined not to let them down. She quickly books a "Boot Scoot'n" wedding that would make any Texan proud. There's only one catch--she's a country music numbskull because her family only listens to Frank Sinatra and Dean Martin. Where will she find a DJ on such short notice who knows his Alan Jackson from his Keith Urban?

When a misunderstanding leads her to the DJ (and man) of her dreams, things start falling into place. But with a family like hers, nothing is guaranteed. Can the perfect Texan wedding survive a pizza-making uncle with mob ties, an aunt who is a lawsuit waiting to happen, and a massive delivery of 80 cowboy boots? And will Bella ever get to plan her own wedding?

Book one in the Weddings by Bella series, Fools Rush In is fun, fresh, and full of surprises. Readers will love the flavorful combination of Italian and Tex-Mex, and the hilarity that ensues when cultures clash.

- Publisher
You May Also Be Interested In
About "Fools Rush in (#01 in Weddings By Bella Series)"
Bella Rossi may be nearing thirty, but her life is just starting to get interesting. When her Italian-turned-Texan parents hand over the family wedding planning business, Bella is determined not to let them down. She quickly books a "Boot Scoot'n" wedding that would make any Texan proud. There's only one catch--she's a country music numbskull because her family only listens to Frank Sinatra and Dean Martin. Where will she find a DJ on such short notice who knows his Alan Jackson from his Keith Urban?

When a misunderstanding leads her to the DJ (and man) of her dreams, things start falling into place. But with a family like hers, nothing is guaranteed. Can the perfect Texan wedding survive a pizza-making uncle with mob ties, an aunt who is a lawsuit waiting to happen, and a massive delivery of 80 cowboy boots? And will Bella ever get to plan her own wedding?

Book one in the Weddings by Bella series, Fools Rush In is fun, fresh, and full of surprises. Readers will love the flavorful combination of Italian and Tex-Mex, and the hilarity that ensues when cultures clash.
- Publisher


Meet the Author
Janice A Thompson
Author Janice A. Thompson lives in the Houston area. In 2004, her two oldest daughters both received proposals within weeks of each other. The weddings came off without a hitch! Janice has since coordinated weddings for friends and is thrilled to incorporate many of her adventures into her novels.
Customer Reviews For "Fools Rush in (#01 in Weddings By Bella Series)"
Write Your Own Review
fun!
By Marija,

Sep 22 2017
Janice Thompson is fast becoming my 'go-to' author when I want a fun, light-hearted novel that is guaranteed to make me laugh out loud! Meeting Bella and her family is liking visiting the home of good friends that you never want to leave (and not least because of all the scrumptious food they always seem to be eating - prepare to feel hungry while reading this story!). This novel kind of reminded me of the movie 'My Big Fat Greek Wedding', but with a Christian twist. I'm looking forward to reading the rest of the series.
---
Meh
By Harsh,

Sep 08 2016
I'm usually quite generous with the star rating, but I just could not get into this book. I was just so bored and the characters didn't interest me or grab me with any interesting story plot. I wouldn't read it again. 
---
It Grew On Me!
By Margot,

Jun 04 2013
I started off thinking this was a silly story with too many superficial characters to keep track of and far too many far fetched, unrealistic events. I wished I'd bought it in paperback so I could flick back more easily to try to put it all together. Then I had time to read a large slab of it in one sitting and it really grew on me! In the end, I decided it was an enjoyable. quirky, light, romantic comedy with just enough depth in the characters to satisfy, and, yes, to even leave me with some interest in continuing the series. I'd recommend it to people with time to read it all at once, and to those who enjoy a good laugh.
---
Funny!!!!!
By Barry,

May 13 2013
I really enjoyed reading this book and as I was reading, I could very easily imagine a large "ItalianAmerican" family seated around the dining table and behaving the way as described in the book. In reality, this is the way that all families should be, sharing life together in an atmosphere of love and caring.

The story contained a number of very likeable characters, in particular, Bella, who wants to succeed with her new business but wants to do it from a perspective of making sure that her clients are the most important thing and are given special attention as she provides them with something very special on their wedding day.

Along the way, Bella finds her "man" in the form of "DJ" in the most unusual manner. Who would have thought that making a comment about looking for a "deejay" would have turned out the way it did. 

If you want to find out what I'm talking about, I suggest you get a copy of this book and read it. It will have you smiling from front to back and leave you feeling happy.

The story contains a good dose of caring family values, romance, jealousy, encouragment as well as a great deal of humour. 

I just hope books 2  3 are just as good. Thank you Janice!
---
Humorous read
By Michelle,

Mar 27 2013
If you feel like a light hearted, enjoyable read, then this is the book for you. It is full of humour and energy and although not very realistic, it is definitely a fun book to read. The characters are lovable and the story line is interesting. This book is a great rainy day weather book. 
{{review.title}}
By {{review.author.name}},

{{review.reviewCreatedDate | date:'MMM dd yyyy'}}

{{reviewdescription}}
{{review.text}}
---
Other Titles In The "Weddings By Bella" Series View All
$29.99




Available 0 Available. Expected to ship in 1 week from Australia.

Formats

$29.99




Order now to secure your copy when our stock arrives. eBook is Available. 0 Available. Expected to ship in 3 weeks from Australia.

Formats

$29.99




Order now to secure your copy when our stock arrives. 0 Available. Expected to ship in 3 weeks from Australia.

Formats