Footprints For Women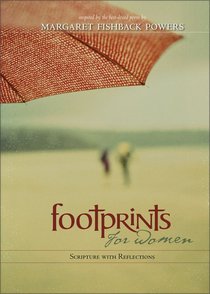 This beautiful gift book encourages women with the words of Margaret Fishback Powers' famous poem 'Footprints' paired with Scripture verses from the New International Version. It also includes the inspiring stories of people who were comforted and strengthened by the powerful truth contained in 'Footprints.'
You May Also Be Interested In
About "Footprints For Women"
This beautiful gift book encourages women with the words of Margaret Fishback Powers' famous poem 'Footprints' paired with Scripture verses from the New International Version. It also includes the inspiring stories of people who were comforted and strengthened by the powerful truth contained in 'Footprints.'
- Koorong

"When you saw only one set of footprints, it was then that I carried you."For over thirty years these words from the poem "Footprints" by Margaret Fishback Powers have brought assurance to millions worldwide. You, too, can experience the blessings and reminders of how God cares and provides for his children in Footprints for Women.In this lovely book, each line from the poem has been paired with Scripture verses from the New International Version to encourage and guide you in your daily walk. You'll also be inspired by the stories of ordinary people whose lives were changed by the truth of "Footprints."This gift book will be a treasured addition to any library and an encouragement to women who wish to follow in the footprints of Jesus.
- Publisher


Meet the Author
Margaret Fishback Powers
Margaret Fishback Powers is the author of the world-famous 'Footprints' poem. When she wrote the poem in 1964, she was a young woman searching for direction at a crossroads in her life. She has traveled the world as an evangelist with her husband, Paul, for more than twenty-five years.