Forgiveness in Context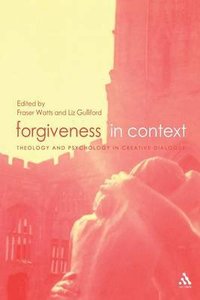 The last 20 years have seen the development of a growing body of psychological literature on the long-neglected subject of forgiveness. Forgiveness has been widely regarded as a purely religious construct, and its associations with a 'neurotic; Christianity perhaps led to its exile from the consulting room. However, recently it has been advocated in many different secular contexts as offering an appropriate and healthy means of release from the wrongdoing on social, interpersonal and individual levels. 'Forgiveness in Context' represents a comprehensive volume dealing with a whole range of contextual issues in which forgiveness may be embedded, and continues to address the idealism which has sometimes influenced discussions on the subject. The book continually engages the reader on both psychological and theological levels in a sustained dialogue that has not permeated any of the books already available on forgiveness to the extent we propose here. Although some of the chapters have a more psychological 'flavour', whilst others are theological in tone, it is central to the ethos of this book that it should weave psychology and theology together throughout all chapters.

- Publisher
You May Also Be Interested In
About "Forgiveness in Context"
The last 20 years have seen the development of a growing body of psychological literature on the long-neglected subject of forgiveness. Forgiveness has been widely regarded as a purely religious construct, and its associations with a 'neurotic; Christianity perhaps led to its exile from the consulting room. However, recently it has been advocated in many different secular contexts as offering an appropriate and healthy means of release from the wrongdoing on social, interpersonal and individual levels. 'Forgiveness in Context' represents a comprehensive volume dealing with a whole range of contextual issues in which forgiveness may be embedded, and continues to address the idealism which has sometimes influenced discussions on the subject. The book continually engages the reader on both psychological and theological levels in a sustained dialogue that has not permeated any of the books already available on forgiveness to the extent we propose here. Although some of the chapters have a more psychological 'flavour', whilst others are theological in tone, it is central to the ethos of this book that it should weave psychology and theology together throughout all chapters.
- Publisher


Meet the Authors
Fraser Watts
Fraser Watts is a Reader in Theology and Science at the Faculty of Divinity, University of Cambridge. He is the editor of Creation, Law and Probability (2008), Jesus and Psychology (2007), The Dialogue between Science and Religion (2006) and the author of Theology and Psychology (2002). He is also an ordained minister in the Church of England, and Vicar-Chaplain of St Edward's Church in Cambridge.
Liz Gulliford
Liz Gulliford is Research Assistant, Psychology and Religion Research Program, University of Cambridge
Table Of Contents
Chapter 1: Forgiveness: Relating Psychology And Theology Fraser Watts; Chapter 2: Forgiveness And Repentance In Judaism Solomon Schimmel; Chapter 3: Early Christian Thinking (ab With) Stephen Burns; Chapter 4: Christian Theology Fraser Watts; Chapter 5: Forgiveness And Liturgy Roger Grainger With Fraser Watts; Chapter 6: Intrapersonal Forgiveness Elizabeth Gulliford; Chapter 7: The Healing Of Relationships Elizabeth Gulliford; Chapter 8: The Capacity For Forgiveness Mary Anne Coate; Chapter 9: Forgiveness In Challenging Circumstances Stephen Burns; Chapter 10: Forgiveness In The Socio-political Sphere (); Chapter 11: Concluding Reflections Fraser Watts