Forgotten Girls (Expanded Edition)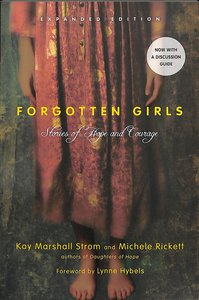 :Think of the little girls you know: your daughter, a niece, a friend's child. Then think about this: little girls are tossed away every day. All over the world, women and girls face troubles such as starvation, displacement, illiteracy, sexual exploitation and abuse. In fact, statistics show that the world's most oppressed people are overwhelmingly female. Moved by the plight of these neglected girls, advocates Kay Marshall Strom and Michele Rickett took a trip across continents to interview girls and to partner with ministries working to help females in some of the most difficult places in the world. These pages hold those girls' stories: stories of deep pain and suffering, inspiring courage, and incredible hope. They are the stories of girls who have discovered their value in God's eyes, in the midst of cultures that have rejected them. They are stories of rescue and redemption by God working through compassionate people-people like you. These pages might hold pieces of your story as well, as the authors invite you to pray and speak on behalf of the millions of women and girls who still need to know how much they're worth. For each of the five sections of the book-physical suffering, education, sexual protection, prison and war, and spiritual life-the authors provide specific, practical action steps and prayer points that allow you to get involved as God leads. This expanded edition includes updated statistics throughout and a discussion guide to accompany each section of the book, as well as a new preface.

- Publisher
You May Also Be Interested In
About "Forgotten Girls (Expanded Edition)"
:Think of the little girls you know: your daughter, a niece, a friend's child. Then think about this: little girls are tossed away every day. All over the world, women and girls face troubles such as starvation, displacement, illiteracy, sexual exploitation and abuse. In fact, statistics show that the world's most oppressed people are overwhelmingly female. Moved by the plight of these neglected girls, advocates Kay Marshall Strom and Michele Rickett took a trip across continents to interview girls and to partner with ministries working to help females in some of the most difficult places in the world. These pages hold those girls' stories: stories of deep pain and suffering, inspiring courage, and incredible hope. They are the stories of girls who have discovered their value in God's eyes, in the midst of cultures that have rejected them. They are stories of rescue and redemption by God working through compassionate people-people like you. These pages might hold pieces of your story as well, as the authors invite you to pray and speak on behalf of the millions of women and girls who still need to know how much they're worth. For each of the five sections of the book-physical suffering, education, sexual protection, prison and war, and spiritual life-the authors provide specific, practical action steps and prayer points that allow you to get involved as God leads. This expanded edition includes updated statistics throughout and a discussion guide to accompany each section of the book, as well as a new preface.
- Publisher


Meet the Authors
Kay Marshall Strom
Of Kay's 34 published books, four have been book club selections, nine have been translated into foreign languages, and one has been optioned for a movie. Her writing credits also include numerous magazine articles, short stories, two prize-winning screenplays, books and stories for children, and booklets for writers. Her writing has appeared in several volumes including More Than Conquerors; Amazing Love; The NIV Couple's Devotional Bible; and The NIV Women's Devotional Bible, and The Bible for Today's Christian Woman. Her work also is included in a number of compilations, including various books from the Stories for the Heart series.
Kay speaks at seminars, retreats, writer's conferences, and special events throughout the country. In addition, more and more her writing and speaking are drawing her to countries and cultures around the world. Most recently she trekked through India, China, Indonesia, Sudan, Morocco, and Senegal - tape recorder and camera in hand - preparing to tell the rest of the story of our donor dollars at work in the lives of individuals and villages around the world.
Kay is a partner in Kline, Strom International, Inc., leaders in communication training.
Michele Rickett
Michelle Rickett is founder and president of Sisters In Service, an international ministry mobilizing advocates to equip women against poverty, oppression, exploitation and spiritual darkness in the world's hardest places through practical grassroots projects. Based in Atlanta, Georgia, she is also coauthor (with husband Daniel) of a Bible study course that graduates mentors called Ordinary Women (Wine Press, 2001) and a contributing author to A Celebration of Women (Watercolor Press, 2001).
Table Of Contents
:preface

Acknowledgements

Introduction

part I: Physical Life

1. Stand Up To The Witch: Indonesia

Beti's Story

2. Disposable Mothers: Tibet

Sonam's And Pema's Stories

3. Sacrificed To Gods: India

Sunshine's Story

4. Not Enough Girls: North Korea And China

Si-un's Story

For Discussion And Action

part Ii: Educational Life

5. Education For Aids Orphans: China

Mai Lin's Story

6. Beautiful Music From Untouchable Girls: India

Anne's Story

7. Given By The Chief: Senegal

Esmee And Afia's Story

8. A New Way: Egypt

Anissa's And Safia's Stories

For Discussion And Action

part Iii: Sexual Protection For Life

9. Temporary Wives In Timbuktu: Mali

Halima's Story

10. Kidnapped! Kyrgyzstan

Meerim's Story

11. Girls For Sale: Nepal

Nima's Story

12. Throwaway Girls: India

Poonam's Story

For Discussion And Action

part Iv: Freedom In Life

13. Behind Prison Bars: Pakistan

Majeeda's And Alira's Stories

14. Surviving War: Sudan

Amina's And Khadijah's Stories

15. Sisters Of War: Iraq

Alina's Story

For Discussion And Action

part V: Spiritual Life

16. An Awakening: Iran

Dorri's And Nahid's Stories

17. From Geisha Daughter To Daughter Of The King: Japan

Yoshi's Story

For Discussion And Action

Conclusion: Looking Through Eyes Of Hope

Appendix 1: Guidelines For Discussion Group Leaders

Appendix 2: Recommended Reading

Notes