Founders of Our Faith (What The Bible Is All About Bible Study Series)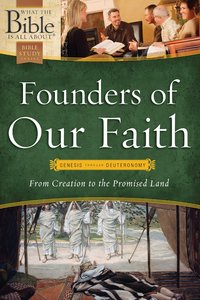 :This study, based on Dr. Mears? perennial best-seller, invites readers to explore the world of the biblical Patriarchs in Genesis and journey with the ancient Israelites on their liberating exodus from Egypt to the Promised Land. Through 12 sessions of study, readers will get to know Adam and Eve, Abraham, Isaac, Jacob, Joseph, Moses, and others, and see God's timeline for Israel's formation and salvation unfold. Plus, Dr. Mears? signature approach to the sweeping biblical narrative is to focus on Christ, so readers will also come to understand how even the earliest events of Scripture point forward to Jesus and His faithfulness to us today.

Each session includes questions for discussion or personal consideration, ideal for group or individual study, as well as journaling space for deeper reflection.

- Publisher
You May Also Be Interested In
About "Founders of Our Faith (What The Bible Is All About Bible Study Series)"
:This study, based on Dr. Mears? perennial best-seller, invites readers to explore the world of the biblical Patriarchs in Genesis and journey with the ancient Israelites on their liberating exodus from Egypt to the Promised Land. Through 12 sessions of study, readers will get to know Adam and Eve, Abraham, Isaac, Jacob, Joseph, Moses, and others, and see God's timeline for Israel's formation and salvation unfold. Plus, Dr. Mears? signature approach to the sweeping biblical narrative is to focus on Christ, so readers will also come to understand how even the earliest events of Scripture point forward to Jesus and His faithfulness to us today.

Each session includes questions for discussion or personal consideration, ideal for group or individual study, as well as journaling space for deeper reflection.
- Publisher


Meet the Author
Henrietta Mears
DR. HENRIETTA C. MEARS is well known as the teacher of some of the most influential Christian leaders of our time, including Billy Graham and Bill Bright. She was the founder of Gospel Light, GLINT and Forest Home Christian Conference Center, and the author of the best-selling Bible handbook What the Bible is All About. Miss Mears died on March 20, 1963, leaving behind a ministry that still thrives today.
Other Titles In The "What The Bible Is All About Bible Study" Series View All