Four Views of Youth Ministry and the Church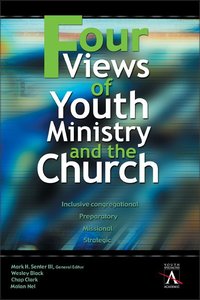 Join the conversation as experts propose, defend, and explore Four Views of Youth Ministry and the ChurchIn a dialog that often gets downright feisty, four youth ministry academicians delineate their distinct philosophical and ecclesiological views regarding how youth ministry relates to the church at large--and leave a taste of what's profound and what's not in these four typologies: Inclusive congregational (Malan Nel). What happens when a church thoroughly integrates its adolescents, making them full partners in every aspect of congregational life?Preparatory (Wesley Black). Why and how should a church consider its teenagers as disciples-in-training and its youth ministry a school of preparation for future participation in church life?Missional (Chap Clark). What does a church look like, whose youth ministry does not necessarily nurture "church kids" but is essentially evangelistic? Whose youths and youth workers are considered missionaries?Strategic (Mark Senter). How feasible is

- Publisher This book delineates four distinct philosophical/ecclesiological views of how youth ministry relates to the church at large. The dialogical and sometimes feisty format gives readers a taste of what's profound and what's flawed in these four typologies: inclusive (Malan Nel), preparatory (Wes Black), missional (Chap Clark), and strategic (Mark Senter). Each view has theological assumptions and pragmatic implications regarding the church's mission to youth which are examined in Youth Specialties' unique style that marries solid academic research with tone and design that is as compelling to in-the-field, practicing youth workers as undergraduate and graduate students. In short, here's a meaty theological dish for the malnourished academic literature in the discipline of youth ministry

- Publisher
You May Also Be Interested In
About "Four Views of Youth Ministry and the Church"
Join the conversation as experts propose, defend, and explore Four Views of Youth Ministry and the ChurchIn a dialog that often gets downright feisty, four youth ministry academicians delineate their distinct philosophical and ecclesiological views regarding how youth ministry relates to the church at large--and leave a taste of what's profound and what's not in these four typologies: Inclusive congregational (Malan Nel). What happens when a church thoroughly integrates its adolescents, making them full partners in every aspect of congregational life?Preparatory (Wesley Black). Why and how should a church consider its teenagers as disciples-in-training and its youth ministry a school of preparation for future participation in church life?Missional (Chap Clark). What does a church look like, whose youth ministry does not necessarily nurture "church kids" but is essentially evangelistic? Whose youths and youth workers are considered missionaries?Strategic (Mark Senter). How feasible is
- Publisher

This book delineates four distinct philosophical/ecclesiological views of how youth ministry relates to the church at large. The dialogical and sometimes feisty format gives readers a taste of what's profound and what's flawed in these four typologies: inclusive (Malan Nel), preparatory (Wes Black), missional (Chap Clark), and strategic (Mark Senter). Each view has theological assumptions and pragmatic implications regarding the church's mission to youth which are examined in Youth Specialties' unique style that marries solid academic research with tone and design that is as compelling to in-the-field, practicing youth workers as undergraduate and graduate students. In short, here's a meaty theological dish for the malnourished academic literature in the discipline of youth ministry
- Publisher


Meet the Authors
Mark H Senter (Ed)
Mark H. Senter III (Ph.D., Loyola University) is professor of educational ministries and chair of the department at Trinity Evangelical Divinity School in Deerfield, Illinois. He is the president of the Association of Youth Ministry Educators, served as a youth pastor for eleven years, and is the author of The Coming Revolution in Youth Ministry and When God Shows Up: A History of Protestant Youth Ministry in America.
Wesley Black
Wesley Black (PhD) is professor and department chair of youth and student ministries at Southwestern Baptist Theological Seminary in Fort Worth, Texas.
Chap Clark
Chap Clark (Ph.D., University of Denver) is professor of Youth, Family and Culture at Fuller Theological Seminary and is director of youth ministry programs. Chap is also the executive administrator at Glendale (California) Presbyterian Church, a youth ministry volunteer for Young Life, and a consultant to schools, denominations, and parachurch organizations.
His publishing credits include The Youth Worker's Handbook to Family Ministry; Daughters and Dads: Building a Lasting Relationship (coauthor); Four Views of Youth Ministry and the Church (coauthor); Deep Ministry in a Shallow World (2006, co-authored with Kara Powell), and Hurt: Inside the World of Todays Teenagers (2004, 2011) a CBA finalist for Book of the Year, available in Spanish and Cantonese),
Malan Nel
Malan Nel (DD, University of Pretoria) is professor of youth ministry and Christian education at Vista University in South Africa.