Four Views on Christian Spirituality (Counterpoints Series)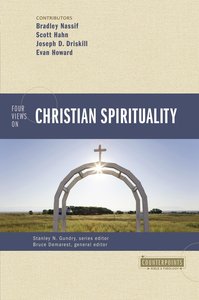 $

26.99

$

21.59
You Save: $5.40 (20%)
Paperback
Amid a culture that is both fascinated by spirituality and inundated by a dizzying variety of options for pursuing it, many Christians long for a deeper, more historically rooted spiritual life. In Four Views on Christian Spirituality, general editor Bruce Demarest presents an invaluable resource for study and comparison of the major Christian perspectives on spiritual formation. Contributors' chapters on Eastern Orthodoxy, Roman Catholicism, Evangelicalism, and Liberal Protestantism, collected side-by-side, easily allow for the beliefs and emphases of the viewpoints to be thoughtfully considered---all in pursuit of greater understanding and spiritual growth. The four viewpoints are given equal opportunity in the hands of the following capable scholars, and each proponent's chapter is followed by responses from the other three. * Brad Nassif (Eastern Orthodoxy) * Scott Hahn (Roman Catholicism) * Evan Howard (Evangelicalism) * Joe Driskill (Liberal Protestantism) In the end, an increased familiarity with each of the different schools of Christian thought will aid readers seeking spiritual transformation for themselves, their family members, and their churches.

- Publisher
You May Also Be Interested In
About "Four Views on Christian Spirituality (Counterpoints Series)"
Amid a culture that is both fascinated by spirituality and inundated by a dizzying variety of options for pursuing it, many Christians long for a deeper, more historically rooted spiritual life. In Four Views on Christian Spirituality, general editor Bruce Demarest presents an invaluable resource for study and comparison of the major Christian perspectives on spiritual formation. Contributors' chapters on Eastern Orthodoxy, Roman Catholicism, Evangelicalism, and Liberal Protestantism, collected side-by-side, easily allow for the beliefs and emphases of the viewpoints to be thoughtfully considered---all in pursuit of greater understanding and spiritual growth. The four viewpoints are given equal opportunity in the hands of the following capable scholars, and each proponent's chapter is followed by responses from the other three. * Brad Nassif (Eastern Orthodoxy) * Scott Hahn (Roman Catholicism) * Evan Howard (Evangelicalism) * Joe Driskill (Liberal Protestantism) In the end, an increased familiarity with each of the different schools of Christian thought will aid readers seeking spiritual transformation for themselves, their family members, and their churches.
- Publisher


Meet the Authors
Bruce A Demarest
Bruce Demarest (Ph.D., University of Manchester) is professor of Christian formation at Denver Seminary in Littleton, Colorado. He is author of Dictionary of Everyday Theology and Culture (Navpress; 2010 with Keith Mathews); Seasons of the Soul: Stages of Spiritual Development (InterVarsity Press, 2009) The Human Person in Theology & Psychology (with Jim Beck, Kregel, 2005); Soul Guide: Following Jesus as Spiritual Director: (Navpress, 2003); Satisfy Your Soul: Restoring the Heart of Christian Spirituality (Navpress, 1999); The Cross & Salvation (Crossway, 1997); Integrative Theology (with Gordon Lewis, Zondervan, 1994); General Revelation (Zondervan, 1982) and Who Is Jesus? (Scripture Press/Victor, 1978).
Koorong -Editorial Review.
Bradley Nassif
Bradley Nassif (PhD, Fordham University) is a professor of Biblical and Theological Studies at North Park University, Chicago, IL. He is the co-editor of The Philokalia: Exploring a Classic Text of Orthodox Spirituality and general editor of New Perspectives on Historical Theology: Essays in Memory of John Meyendorff.
Scott Hahn
A highly sought-after speaker and best-selling author, Dr. Scott Hahn is one of the foremost Scriputure scholars as the Pope Benedict XVI Chair of Biblical Theology and Liturgical Proclamation at St. Vincent Seminary in Latrobe, Pennsylvania. A popular writer, speaker, and teacher, he has authored numerous books and articles in lay and academic publications including The Lamb's Supper, Reasons to Believe, and Kinship by Covenant, and coauthor of Rome Sweet Home. Hahn is also the general editor of the Ignatius Catholic Study Bible, The Catholic Bible Dictionary, and Letter and Spirit: A Journal of Catholic Biblical Theology.
Other Titles In The "Counterpoints" Series View All
$30.99




Order now to secure your copy when our stock arrives. eBook is Available. 0 Available. Expected to ship in 7 to 8 weeks from Australia.

Formats

$27.99

$22.39




Available Now. 5 Available