Four Views on the Historical Adam (Counterpoints Series)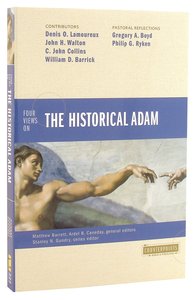 $

24.99

$

19.99
You Save: $5.00 (20%)
Paperback
As a part of the Counterpoints series, Four Views on the Historical Adam clearly outlines four primary views on Adam held by evangelicals, featuring top-notch proponents of each view presenting their positions in their own words and critiquing the positions with which they disagree. You will come away with a better understanding of the key biblical and theological issues at stake and of the implications of Adam for contemporary Christian witness and church life. Contributors include Denis O. Lamoureux, John H. Walton, C. John Collins, and William Barrick. Each focuses his essay on answering the following questions: What is the biblical case for your viewpoint, and how do you reconcile it both with modern science and with passages and potential interpretations that seem to counter it? In what ways is your view more theologically consistent and coherent than other views? What are the implications of your view for the spiritual life and public witness of the church and individual believers, and how is your view a healthier alternative for both? Concluding reflections by pastor-scholars Gregory A. Boyd and Philip Graham Ryken highlight the significance of the topic in the faith of everyday believers.

- Publisher
You May Also Be Interested In
About "Four Views on the Historical Adam (Counterpoints Series)"
As a part of the Counterpoints series, Four Views on the Historical Adam clearly outlines four primary views on Adam held by evangelicals, featuring top-notch proponents of each view presenting their positions in their own words and critiquing the positions with which they disagree. You will come away with a better understanding of the key biblical and theological issues at stake and of the implications of Adam for contemporary Christian witness and church life. Contributors include Denis O. Lamoureux, John H. Walton, C. John Collins, and William Barrick. Each focuses his essay on answering the following questions: What is the biblical case for your viewpoint, and how do you reconcile it both with modern science and with passages and potential interpretations that seem to counter it? In what ways is your view more theologically consistent and coherent than other views? What are the implications of your view for the spiritual life and public witness of the church and individual believers, and how is your view a healthier alternative for both? Concluding reflections by pastor-scholars Gregory A. Boyd and Philip Graham Ryken highlight the significance of the topic in the faith of everyday believers.
- Publisher


Meet the Authors
Ardel B Caneday
Caneday is associate professor of Bible at Northwestern College, St. Paul, Minnesota.
John Walton
John H. Walton (Ph.D., Hebrew Union College) is professor of Old Testament at Wheaton College, Illinois. He is the author or editor of numerous books, including A Survey of the Old Testament, Old Testament Today, The IVP Bible Background Commentary: Old Testament and Genesis (NIVAC)
Koorong - Editorial Review.
Gregory A Boyd
Gregory A. Boyd (Ph.D., Princeton Theological Seminary) is a pastor at Woodland Hills Church in St. Paul, Minnesota. Previously, he was a professor of theology at Bethel College, also in St. Paul. His books include Cynic, Sage or Son of God?, Recovering the Real Jesus in an Age of Revisionist Replies, Letters from a Skeptic, God of the Possible, Repenting of Religion, Seeing is Believing, Escaping the Matrix, Is God to Blame?, and God at War and Satan and the Problem of Evil.

Koorong -Editorial Review.
Table Of Contents
Introduction

1. No Historical Adam, Evolutionary Creation View

A. Response, Archetypal View

B. Response, Old-earth View

C. Response, Young-earth View

2. A Historical Adam, Archetypal Creation View

A. Response, Evolutionary View

B. Response, Old-earth View

C. Response, Young-earth View

3. A Historical Adam, Old-earth Creation View

A. Response, Evolutionary View

B. Response, Archetypal View

C. Response, Young-earth View

4. A Historical Adam, Young-earth Creation View

A. Response, Evolutionary View

B. Response, Archetypal View

C. Response, Old-earth View

Pastoral Reflection #1: Whether Or Not There Was A Historical Adam, Our Faith Is Secure

Pastoral Reflection #2: We Can't Rightly Understand The World Or Our Faith Without A Real, Historical Adam
Other Titles In The "Counterpoints" Series View All
$30.99




Order now to secure your copy when our stock arrives. eBook is Available. 0 Available. Expected to ship in 7 to 8 weeks from Australia.

Formats

$27.99

$22.39




Available Now 5 Available