Frame 232 (#01 in A Jason Hammond Novel Series)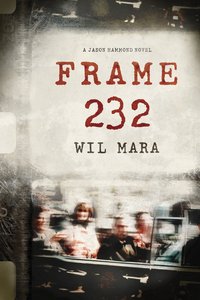 The time had come, she decided, to rid herself of this burden, to take the steps necessary to put the matter to rest once and for all. And the first step, she knew?against every instinct and desire?was to watch that film.

During the reading of her mother's will, Sheila Baker discovers that she has inherited everything her parents ever possessed, including their secrets. A mysterious safe-deposit box key leads her to the answers to one of history's greatest conspiracies: Who killed John F. Kennedy? Not only does she have the missing film, revealing her mother as the infamous babushka lady, but she has proof that there was more than one shooter.

On the run from people who would stop at nothing to keep secrets buried, Sheila turns to billionaire sleuth Jason Hammond for help. Having lost his own family in a tragic plane crash, Jason knows a thing or two about running from the past. With a target on their backs and time running out, can Jason finally uncover the truth behind the crime that shook a generation?or will he and Sheila become its final victims?

- Publisher
You May Also Be Interested In
About "Frame 232 (#01 in A Jason Hammond Novel Series)"
The time had come, she decided, to rid herself of this burden, to take the steps necessary to put the matter to rest once and for all. And the first step, she knew?against every instinct and desire?was to watch that film.

During the reading of her mother's will, Sheila Baker discovers that she has inherited everything her parents ever possessed, including their secrets. A mysterious safe-deposit box key leads her to the answers to one of history's greatest conspiracies: Who killed John F. Kennedy? Not only does she have the missing film, revealing her mother as the infamous babushka lady, but she has proof that there was more than one shooter.

On the run from people who would stop at nothing to keep secrets buried, Sheila turns to billionaire sleuth Jason Hammond for help. Having lost his own family in a tragic plane crash, Jason knows a thing or two about running from the past. With a target on their backs and time running out, can Jason finally uncover the truth behind the crime that shook a generation?or will he and Sheila become its final victims?
- Publisher


Meet the Author
Wil Mara
Wil Mara, a lifelong fan of the National Football League, is the author of more than seventy-five books. He has written both fiction and nonfiction, for both children and adults. Aside from his "NFL novels," he also wrote the 2005 disaster thriller "Wave," which won the 2005 New Jersey Notable Book Award.