Free At Last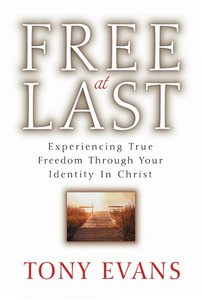 Need for Product: - Spiritual identity is a crucial issue for the Christian believer- Evans helps readers understand and practically apply the truth that "changing our actions starts with clarifying our identity."- Christians need to be liberated from spiritual bondage- People need to be free from anyone or anything controlling their lives except for Christ- Christians are looking for resources to help them improve the quality of their walk with Christ

- Publisher 216 Pages

- Publisher This reader says it best: 'Tony Evans explores the problem of Christians who continue to sin and who do not fully utilize the freedom they have received in Christ. He compares Satan to a plantation owner who knows that legally his slaves have been freed, but who tries to convince them that they'll never make it in this world without him. He says that sometimes we need to make it to rock bottom before we realize that 'Christ IS the Rock at the bottom.' This is a very inspiring and encouraging book, both for those who have not confessed Christ and for those who have been Christians for many years.

- Publisher
You May Also Be Interested In
About "Free At Last"
Need for Product: - Spiritual identity is a crucial issue for the Christian believer- Evans helps readers understand and practically apply the truth that "changing our actions starts with clarifying our identity."- Christians need to be liberated from spiritual bondage- People need to be free from anyone or anything controlling their lives except for Christ- Christians are looking for resources to help them improve the quality of their walk with Christ
- Publisher

216 Pages
- Publisher

This reader says it best: 'Tony Evans explores the problem of Christians who continue to sin and who do not fully utilize the freedom they have received in Christ. He compares Satan to a plantation owner who knows that legally his slaves have been freed, but who tries to convince them that they'll never make it in this world without him. He says that sometimes we need to make it to rock bottom before we realize that 'Christ IS the Rock at the bottom.' This is a very inspiring and encouraging book, both for those who have not confessed Christ and for those who have been Christians for many years.
- Publisher


Meet the Author
Tony Evans
Tony Evans is the senior pastor of Oak Cliff Bible Fellowship Church in Dallas, and president of The Urban Alternative, a ministry devoted to bringing about change in urban communities through the Church. He is the author of many books, including Free at Last, The Battle is the Lord's, Our God Is Awesome, Returning to Your First Love, The Promise, Who is this King of Glory? What Matters Most, and The Best Is Yet To Come.- Publisher.
Table Of Contents
:

1. it's Time For Your Liberation

2. clarifying Your Identity

3. your New Position In Christ

4. the Battle Within

5. the Exchanged Life

6. the Bondage Of Legalism

7. the Marvel Of Grace

8. walking By The Flesh

9. walking By The Spirit

10. Living By Faith

11. Reprogramming Your Mind

12. the Power Of Intimacy

13. the Beauty Of Brokenness

14. free At Last
Excerpt
Excerpt from: Free At Last
:
The story is told that the queen of England was trying to get her daughter to sit still. She started the way most parents start. "Young lady, be still." That worked for a while, but the girl started wiggling again. Then it was, "I said, be still!" But nothing worked to keep the girl quiet until the queen said, "Young lady, be still. Don't you know who you are?" In other words, "You're a princess. Act like it." The girl got the message this time, because the queen tied her daughter's behavior to her identity. We can tell each other all day to stop doing this or that. But if we don't see the connection between our identity in Christ and our actions, I'm going to start wiggling after a while, and so will you. If you have a heart that desperately desires to know and serve God, the place to begin is by understanding and believing the biblical truth of your identity in Christ. This is a watershed issue, one that determines whether you will live free in Christ or live as a slave of the world, the flesh, and the devil.