Free Hobbit Lessons Sampler - Ebook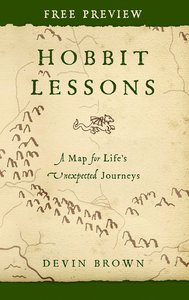 Enjoy this free preview of Hobbit Lessons: A Map for Life's Unexpected Journeys, by Devin Brown. The book releases nationwide October 2013 but you can preview it now for free! Millions of fans worldwide have been attracted to the Hobbit for its unique combination of high adventure and profound truths. Tapping the excitement around the highly-anticipated second installment of the Hobbit movie trilogy (in theatres December 2013), Tolkien-scholar, Devin Brown, now presents a fast-paced and easy-to-follow presentation of timeless spiritual messages to help navigate your spiritual journey. Peppered with illustrations throughout, Hobbit Lessons offers troll-sized portions of relevance and regular nuggets of good Hobbit sense. The result is a collection of tangible bites of wisdom that are not only deeply moving but also great fun. These lessons on joy, friendship, dedication, sacrifice, and more will appeal to Hobbit fans, parents, teachers, librarians, youth pastors, graduates?and anyone looking for a creative way to explore timeless life lessons and important values of faith. Chapter titles include: When Adventure Comes Knocking, Let It In (Despite the Fact It May Make You Late for Dinner) Live Courageously (Even if?Especially if?Part of You Says Not To) Be Fond of Waistcoats, Second Breakfasts, Pocket Handkerchiefs, and Four O?Clock Tea (But Don?t Let Them Become Too Precious) Have your Friends? Backs (Someone Has Yours) Beware?Not All That Glitters Is Gold (And Even Gold Is Not the Treasure You Think) Remember?Not All That Is Gold Glitters (In Fact, Life's Real Treasures Are Quite Ordinary Looking) Recognize You Are Only a Little Fellow in a Wide World (But Still an Important Part of a Larger Story) Find the Enchantment All Around You (Even if You Are Not a Wizard)

- Publisher
You May Also Be Interested In
About "Free Hobbit Lessons Sampler - Ebook"
Enjoy this free preview of Hobbit Lessons: A Map for Life's Unexpected Journeys, by Devin Brown. The book releases nationwide October 2013 but you can preview it now for free! Millions of fans worldwide have been attracted to the Hobbit for its unique combination of high adventure and profound truths. Tapping the excitement around the highly-anticipated second installment of the Hobbit movie trilogy (in theatres December 2013), Tolkien-scholar, Devin Brown, now presents a fast-paced and easy-to-follow presentation of timeless spiritual messages to help navigate your spiritual journey. Peppered with illustrations throughout, Hobbit Lessons offers troll-sized portions of relevance and regular nuggets of good Hobbit sense. The result is a collection of tangible bites of wisdom that are not only deeply moving but also great fun. These lessons on joy, friendship, dedication, sacrifice, and more will appeal to Hobbit fans, parents, teachers, librarians, youth pastors, graduates?and anyone looking for a creative way to explore timeless life lessons and important values of faith. Chapter titles include: When Adventure Comes Knocking, Let It In (Despite the Fact It May Make You Late for Dinner) Live Courageously (Even if?Especially if?Part of You Says Not To) Be Fond of Waistcoats, Second Breakfasts, Pocket Handkerchiefs, and Four O?Clock Tea (But Don?t Let Them Become Too Precious) Have your Friends? Backs (Someone Has Yours) Beware?Not All That Glitters Is Gold (And Even Gold Is Not the Treasure You Think) Remember?Not All That Is Gold Glitters (In Fact, Life's Real Treasures Are Quite Ordinary Looking) Recognize You Are Only a Little Fellow in a Wide World (But Still an Important Part of a Larger Story) Find the Enchantment All Around You (Even if You Are Not a Wizard)
- Publisher


Customer Reviews For "Free Hobbit Lessons Sampler - Ebook"
Write Your Own Review
Enticing quick read
By Renae,

May 03 2017
Thoroughly enjoyed reading this little preview version of Hobbit Lessons - A Map For Life's Unexpected Journeys.

The author grabs you from the start and doesn't lose you throughout the sampler... it has my appetite whet for more and gave me a few 'aha' moments in the process - I'll definitely be buying the full version to read!

A great and insightful series for lovers of Tolkien, unexpected adventures, and homebodies alike!
{{review.title}}
By {{review.author.name}},

{{review.reviewCreatedDate | date:'MMM dd yyyy'}}

{{reviewdescription}}
{{review.text}}
---