Free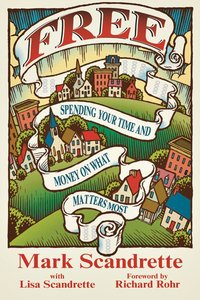 Why does chasing the good life make us feel so bad? We dream big and spend our money and time chasing our dreams&-only to find ourselves exhausted, deeply in debt and spiritually empty. Mark and Lisa Scandrette realized at the beginning of their lives together that what they want, what they need and what they were being told to want didn't sync up. In Free Mark (with a little help from Lisa) shares the secrets of how they bought a home and raised a family debt-free in the most expensive city in the United States&-and how they've enjoyed good relationships, good adventures and good food along the way. Packed with helpful exercises for getting a handle on your money story, and designed for healing and generative money conversations with friends, Free gives you a path to financial freedom and spiritual flourishing that awakens your heart and energizes your soul.

- Publisher
You May Also Be Interested In
About "Free"
Why does chasing the good life make us feel so bad? We dream big and spend our money and time chasing our dreams&-only to find ourselves exhausted, deeply in debt and spiritually empty. Mark and Lisa Scandrette realized at the beginning of their lives together that what they want, what they need and what they were being told to want didn't sync up. In Free Mark (with a little help from Lisa) shares the secrets of how they bought a home and raised a family debt-free in the most expensive city in the United States&-and how they've enjoyed good relationships, good adventures and good food along the way. Packed with helpful exercises for getting a handle on your money story, and designed for healing and generative money conversations with friends, Free gives you a path to financial freedom and spiritual flourishing that awakens your heart and energizes your soul.
- Publisher


Meet the Authors
Mark Scandrette
Mark Scandrette (www.markscandrette.com) is the author of Soul Graffitti: Making a Life in the Way of Jesus (Jossey-Bass, 2007) and Practicing the Way of Jesus: Life Together in the Kingdom of Love (InterVarsity Press, 2011) and the executive director and cofounder of ReIMAGINE (www.reimagine.org), a center for spiritual formation in San Francisco that sponsors city-based learning initiatives, peer learning groups, and The Jesus Dojo, a year-long intensive formation process inspired by the life and teachings of Jesus. Mark is a founding member of SEVEN, a monastic community working as advocates for holistic and integrative Christian spirituality. Mark is also a senior fellow with Emergent (www.emergentvillage.com), a growing generative friendship among missional Christian leaders.
Lisa Scandrette
Lisa makes a life in the Mission District of San Francisco with her husband Mark and their three children. She is administration and hospitality coordinator for ReIMAGINE, a center for integral Christian practice with a mission to help people become more fully human through engagement with the life and teachings of Jesus. She spends her time teaching kids, facilitating workshops and creating with her hands, and she specializes in living simply and offering care and hospitality. Lisa is coauthor of FREE: Spending Your Time and Money on What Matters Most with husband Mark Scandrette.
Table Of Contents
Why We Wrote This Book

How To Use This Book

A Prayer Of Abundance

Introduction: Making Space For Life To Grow

1. Name What Matters Most To You

2. Value And Align Your Time

3. Practice Gratitude And Trust

4. Believe You Have Enough By Embracing Voluntary Limits

5. Create A Spending Plan

6. Maximize Your Resources

7. Live Generously And Spend Wisely

Conclusion

Acknowledgments

Learning Contract

Group Study Guide

Resources

About The Authors