Freedom From the 12 Deadly Sins: Secrets to Help You Press Into Your Destiny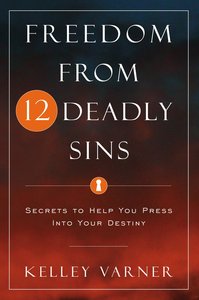 God's plan for our lives is wrapped up in the Seed, the Word of the Kindgom. Our individual destiny is to be like Jesus. Our corporate destiny is the unity of the faith, a people in whom Christ is fully formed.Twelve deadly sins have beset the people of God in this spiritual race. Evangelicals must face and conquer the obstacles of cessasionism, Stoicisn, and easy believism. Spirit-filled believers must overcome legalism, asceticism, dualism, elitism, tribalism, traditoinalism, and futurism. Those who press into maturity in this Third Day must hurdle past mysticism and Gnosticism to reach the goal and win the prize.

- Publisher
You May Also Be Interested In
About "Freedom From the 12 Deadly Sins: Secrets to Help You Press Into Your Destiny"
God's plan for our lives is wrapped up in the Seed, the Word of the Kindgom. Our individual destiny is to be like Jesus. Our corporate destiny is the unity of the faith, a people in whom Christ is fully formed.Twelve deadly sins have beset the people of God in this spiritual race. Evangelicals must face and conquer the obstacles of cessasionism, Stoicisn, and easy believism. Spirit-filled believers must overcome legalism, asceticism, dualism, elitism, tribalism, traditoinalism, and futurism. Those who press into maturity in this Third Day must hurdle past mysticism and Gnosticism to reach the goal and win the prize.
- Publisher


Meet the Author
Kelley Varner
KELLEY VARNER is founder of Praise Tabernacle and the director of the Crystal Coast Conference Center. He is the author of more than 50 books, as well as The Praise Report, his weekly e-mail newsletter. He has ministered extensively throughout this nation and in several other countries. He lives with his wife, Joann, and their four children in Richlands, North Carolina.