Frenemies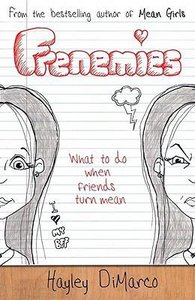 Friends + Enemies = Frenemies Is your friend your BFF one day and your worst enemy the next? One day she's sweet and fun, and then WHAM! she's stabbing you in the back and spreading rumors about you. What gives? Maybe she's not outright cruel like a mean girl is. But because she's your friend she's got more dirt on you--and more opportunities to hurt you. You're not alone. Nearly everyone will be blindsided by a so-called friend at least once. But that doesn't make it any easier. If you're dealing with a frenemy (or several of them), you need to know when it's time to work through the relationship and when it's time to cut her loose and find some new friends. Hayley DiMarco, bestselling author of Dateable and Mean Girls, shows you how to identify a frenemy love your frenemy take the enemy out of frenemy break up with your frenemy deal with the frenemy you can't leave Hayley DiMarco is founder of Hungry Planet, where she writes and creates cutting-edge books. She is the bestselling author of many books, including Dateable, Mean Girls, Sexy Girls, Technical Virgin, B4UD8, and God Girl. She lives in Nashville, Tennessee, with her husband and their daughter.

- Publisher Friends and enemies--sometimes it's hard to tell the two apart. Especially when some people seem to be both. In her bestselling book Mean Girls, Hayley DiMarco counseled teens about how to handle mean girls at school or church who were making their lives miserable. But what's a girl to do when her own friends are the ones doing those mean and hurtful things--being her BFF one day but betraying her the next? Frenemies helps girls figure it out.
In this new book from big-sister mentor Hayley DiMarco, teens will learn why friends act the way they do and how they should react when the mean people in their lives are the people they love and trust the most.

- Publisher
You May Also Be Interested In
About "Frenemies"
Friends + Enemies = Frenemies Is your friend your BFF one day and your worst enemy the next? One day she's sweet and fun, and then WHAM! she's stabbing you in the back and spreading rumors about you. What gives? Maybe she's not outright cruel like a mean girl is. But because she's your friend she's got more dirt on you--and more opportunities to hurt you. You're not alone. Nearly everyone will be blindsided by a so-called friend at least once. But that doesn't make it any easier. If you're dealing with a frenemy (or several of them), you need to know when it's time to work through the relationship and when it's time to cut her loose and find some new friends. Hayley DiMarco, bestselling author of Dateable and Mean Girls, shows you how to identify a frenemy love your frenemy take the enemy out of frenemy break up with your frenemy deal with the frenemy you can't leave Hayley DiMarco is founder of Hungry Planet, where she writes and creates cutting-edge books. She is the bestselling author of many books, including Dateable, Mean Girls, Sexy Girls, Technical Virgin, B4UD8, and God Girl. She lives in Nashville, Tennessee, with her husband and their daughter.
- Publisher

Friends and enemies--sometimes it's hard to tell the two apart. Especially when some people seem to be both. In her bestselling book Mean Girls, Hayley DiMarco counseled teens about how to handle mean girls at school or church who were making their lives miserable. But what's a girl to do when her own friends are the ones doing those mean and hurtful things--being her BFF one day but betraying her the next? Frenemies helps girls figure it out.
In this new book from big-sister mentor Hayley DiMarco, teens will learn why friends act the way they do and how they should react when the mean people in their lives are the people they love and trust the most.
- Publisher


Meet the Author
Hayley Dimarco
Hayley DiMarco is chief creative officer and founder of Hungry Planet, where she writes and creates cutting-edge books that connect with the post-modern mind. She has written and co-written numerous bestselling books for both teens and adults, including Sexy Girls -The Evangelical Christian Publishers Christian Book Award Winner,Children/Youth Category for 2007 and Technical Virgin also one of the five finalists.
Other popular titles include Dateable, Mean Girls, Marriageable, and Stupid Parents. Before all this bestseller stuff, Hayley was the teen brand manager for Thomas Nelson, a huge Christian book publisher. Before that, she worked for a little shoe company called Nike. She still misses the free swoosh swag.