Fresh Expressions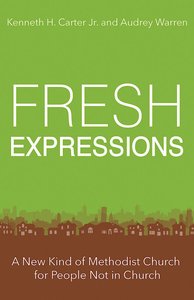 A wave of new Christian churches are emerging to reach unchurched and dechurched people who live in a culture that is increasingly non-religious and multi-religious. These new forms of church gather and network with people who typically have never been to church. The new faith communities listen to people and go where they are on the journey toward Jesus. They are deeply ecumenical but do not lose their distinctiveness because they learn fresh ways to communicate their identity through discipleship. Fresh Expressions began in the United Kingdom where it ignited over 3000 new faith communities. In the United States the movement is putting down roots in Virginia, Pennsylvania, and Florida. Ken Carter and Audrey Warren offer this book as a group study for church leaders and congregations who are in the grip of Holy Spirit motivation to renew their tradition by reaching people who are dechurched or not yet in a discipleship relationship with Jesus. Each chapter includes two Bible study experiences for group conversation.

- Publisher
You May Also Be Interested In
About "Fresh Expressions"
A wave of new Christian churches are emerging to reach unchurched and dechurched people who live in a culture that is increasingly non-religious and multi-religious. These new forms of church gather and network with people who typically have never been to church. The new faith communities listen to people and go where they are on the journey toward Jesus. They are deeply ecumenical but do not lose their distinctiveness because they learn fresh ways to communicate their identity through discipleship. Fresh Expressions began in the United Kingdom where it ignited over 3000 new faith communities. In the United States the movement is putting down roots in Virginia, Pennsylvania, and Florida. Ken Carter and Audrey Warren offer this book as a group study for church leaders and congregations who are in the grip of Holy Spirit motivation to renew their tradition by reaching people who are dechurched or not yet in a discipleship relationship with Jesus. Each chapter includes two Bible study experiences for group conversation.
- Publisher


Meet the Authors
Kenneth H Carter (Jr)
Kenneth H. Carter, Jr., (D.Min., Princeton Theological Seminary) is senior pastor of Providence United Methodist Church in Charlotte, North Carolina. He is the author of The Gifted Pastor; Finding and Using Your Spiritual Gifts; A Way of Life in the World, and Prayers and Liturgies of Confession and Assurance published by Abingdon Press.
Audrey Warren
Rev. Dr. Audrey B. Warren, a native Floridian, did not venture too far from her hometown of Naples to plant some roots. Audrey currently resides in Miami, FL nbsp;where she and her husband Jose Luis are active members of their very diverse downtown community.nbsp;Audrey earned her Bachelor of Arts from Florida Southern College where she majored in Religion, and then ventured out of Florida for only a few years to earn her Masters of Divinity from Duke Divinity School in Durham, NC.nbsp; Audrey then continued her studies at Wesley Theological Seminary where she earned her Doctorate of Ministry focusing on Children and Spirituality. She is an ordained Elder in the Florida Conference of the United Methodist Church and currently serves as Senior Pastor at First United Methodist Church of Miami.Since 2013 Audrey has co-convened the Fresh Expressions movement in the Florida Annual Conference. Audrey's greatest joy in ministry is teaching Yoga Chapel in Downtown Miami as well as visioning with her congregation new ways to be church in a growing and diverse city.nbsp;As a fluent Spanish-speaker Audrey enjoys going to see Latino Rock Band concerts in her free time. You also might find her biking with her husband or at the beach on her days off.nbsp;