From a Distance (#01 in Timber Ridge Reflections Series)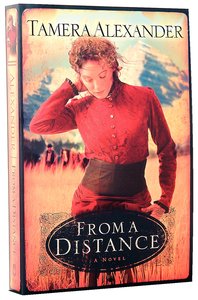 What happens when the realization of a dream isn't what you imagined... and the secret you've spent a lifetime guarding is finally laid bare?

Determined to become one of the country's premier newspaper photographers, Elizabeth Westbrook travels to the Colorado Territory to capture the grandeur of the mountains surrounding the remote town of Timber Ridge. She hopes, too, that the cool, dry air of Colorado, and its renowned hot springs, will cure the mysterious illness that threatens her career, and her life.

Daniel Ranslett, a former Confederate sharpshooter, is a man shackled by his past, and he'll do anything to protect his land, and his solitude. When an outspoken Yankee photographer captures an image that appears key to solving a murder, putting herself in danger, Daniel is called upon to repay a debt. He's a man of his word, but repaying that debt could bring secrets from his past to light.

Forced on a perilous journey together, Daniel's and Elizabeth's lives intertwine in ways neither could have imagined when first they met .... from a distance.



- Publisher For Elizabeth Westbrook, establishing her career as a premier photojournalist is of utmost concern, as is finding a cure for her mysterious illness. But when one of her photographs becomes key evidence in a murder charge, her life is in peril.

- Publisher
You May Also Be Interested In
About "From a Distance (#01 in Timber Ridge Reflections Series)"
What happens when the realization of a dream isn't what you imagined... and the secret you've spent a lifetime guarding is finally laid bare?

Determined to become one of the country's premier newspaper photographers, Elizabeth Westbrook travels to the Colorado Territory to capture the grandeur of the mountains surrounding the remote town of Timber Ridge. She hopes, too, that the cool, dry air of Colorado, and its renowned hot springs, will cure the mysterious illness that threatens her career, and her life.

Daniel Ranslett, a former Confederate sharpshooter, is a man shackled by his past, and he'll do anything to protect his land, and his solitude. When an outspoken Yankee photographer captures an image that appears key to solving a murder, putting herself in danger, Daniel is called upon to repay a debt. He's a man of his word, but repaying that debt could bring secrets from his past to light.

Forced on a perilous journey together, Daniel's and Elizabeth's lives intertwine in ways neither could have imagined when first they met .... from a distance.


- Publisher

For Elizabeth Westbrook, establishing her career as a premier photojournalist is of utmost concern, as is finding a cure for her mysterious illness. But when one of her photographs becomes key evidence in a murder charge, her life is in peril.
- Publisher


Meet the Author
Tamera Alexander
Tamera Alexander is the critically acclaimed author of Rekindled, her first novel. Before turning to writing full-time, Tamera Alexander's professional background was in business management and corporate conference coordination. A business graduate of Harding University, Tamera lives with her husband and their two teenagers in Greeley, Colorado.
Customer Reviews For "From a Distance (#01 in Timber Ridge Reflections Series)"
Write Your Own Review
Skin Deep
By becinchina,

Oct 07 2017
An enlightening look at prejudice and truly seeing the beauty right in front of us.
---
Pleasantly surprised
By Alyce,

May 07 2016
I have never read a Tamera Alexander book before but definitely will be again. She creates a perfect mix of history, romance and intriguing characters. The setting for the story is so beautifully described I wish I could see it myself.
---
Lovely Read
By Jessica R Wakefield,

Apr 02 2013
 This is my first Tamera Alexander book and I loved it. She effortlessly weaves the majestic Rocky Mountains of Colorado bringing them to life through the eyes of her beautifully drawn characters. After reading the first few chapters, I cam to a solid conclusion. Tamera Alexander does the two things I really want in books and she does them well - more than well - she does them beautifully. 

Tamera has well drawn and interesting characters - Daniel and Elizabeth as well as all the others are infused with life giving traits that make them real. I don't like all the characters, or even all of what Elizabeth and Daniel do at times, but they are real. 

The second thing I love is the inclusion of the setting. So many books I have read lately seem to pay less attention to the setting of the story. To me if an author is taking the trouble to set their story somewhere interesting, beautiful etc they need to take the time to show their readers this place. This is what Tamera Alexander does. The Rocky Mountains felt real to me, as if I was there right next to her characters watching the same scene.

The pace of the book was slow but engaging at the same time. Elizabeth and Daniel are strong characters who are driven by expectations and past experiences which leads them to clash a fair bit. Elizabeth is fairly like able and the spiritual growth she goes through is honest and believable (she really needed to do some spiritual growing). Daniel is a man battling his past in the war and his desire to preserve the land God created out here in the Rockies. It is a pleasure to watch these two grow closer together and to God.

I truly enjoyed this book and was very glad that my sister had given me The Timber Ridge Trilogy for Christmas 2011. I read all 3 books in four days!

Tamera you have won yourself a new fan!
---
Poignant and Masterful
By Maxine,

Jan 13 2013
Tamera Alexander has created a poignant read - beautifully written and emotionally charged.
Her leading lady is strong and ambitious, yet flawed - which we all can relate to. The male, realistic, endearing, and artistically created in such a way that I'm certain I'd like to meet him!
Like a good fire, the storyline started small and slowly built to an all out bonfire - captivating with its written imagery, with endearing and sometimes intriguing supporting characters. It was a well researched read, tugging on heart strings and engaging the reader.
I thoroughly enjoyed it and am looking forward to others in the series.
---
Both thumbs way up!!
By Audrey,

Sep 14 2012
I love, love, loved this book! The characters, storyline,everything. Never a dull moment.  Looking forward to read more books from this author.
{{review.title}}
By {{review.author.name}},

{{review.reviewCreatedDate | date:'MMM dd yyyy'}}

{{reviewdescription}}
{{review.text}}
---
Other Titles In The "Timber Ridge Reflections" Series