From Anger to Intimacy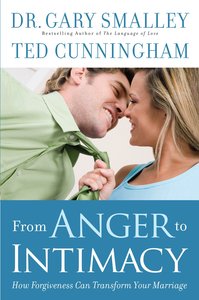 Did you know that spiritual, emotional, physical, and relational exhaustion lead to anger? And unresolved anger leads to sin. All couples deal with anger and how they respond (stuff it, spew it, or study it), can make all the difference in their relationship and in their lives. In From Anger to Intimacy, Gary Smalley and Ted Cunningham explore this often maligned and God-given emotion that, unless dealt with, can strip us of everything we love.

Now couples can learn the skills to:

-resolve conflict, hurt, and pain in a healthy way
-master their internal buttons so as to overcome feelings of anger, frustration, and rage
-use five specific tactics to deal with anger and rage when they rear their ugly heads
-walk in the freedom God intends by learning the three essentials of forgiveness and five keys to nurturing a forgiving spirit
-craft the perfect apology
-remove the roadblocks to forgiveness once and for all
-break sexual addiction and heal after an affair
-and find answers to big questions about anger and forgiveness in their marriage

- Publisher
You May Also Be Interested In
About "From Anger to Intimacy"
Did you know that spiritual, emotional, physical, and relational exhaustion lead to anger? And unresolved anger leads to sin. All couples deal with anger and how they respond (stuff it, spew it, or study it), can make all the difference in their relationship and in their lives. In From Anger to Intimacy, Gary Smalley and Ted Cunningham explore this often maligned and God-given emotion that, unless dealt with, can strip us of everything we love.

Now couples can learn the skills to:

-resolve conflict, hurt, and pain in a healthy way
-master their internal buttons so as to overcome feelings of anger, frustration, and rage
-use five specific tactics to deal with anger and rage when they rear their ugly heads
-walk in the freedom God intends by learning the three essentials of forgiveness and five keys to nurturing a forgiving spirit
-craft the perfect apology
-remove the roadblocks to forgiveness once and for all
-break sexual addiction and heal after an affair
-and find answers to big questions about anger and forgiveness in their marriage
- Publisher


Meet the Authors
Gary Smalley
Gary Smalley, one of the foremost experts on family relationships, has written or co-written 28 best-selling, award winning books selling over six millions copies, as well as several popular films and videos, based on more than 30 years of experience as a teacher, counsellor and speaker. The Blessing and The Two Sides of Love have won Gold Medallions, The Language of Love won the Angel Award as the best contribution to family life and all other titles have been top-five finalists for the Gold Medallion Award. His latest book is the DNA of Relationships. Gary and his wife, Norma, have been married for over thirty years.
Ted Cunningham
TED CUNNINGHAM is the founding pastor of Woodland Hills Family Church in Branson, Missouri. Speaking on colleges campuses, at marriage conferences and retreats, Ted is passionate about inspiring couples with biblical teaching. He is a speaker for the Smalley Relationship Center and The National Institute for Marriage. Ted is also the co-founder of Twoignite, a national local churchnbsp;initiative igniting couples through adventure, and co-creator ofnbsp;Tripfire.com. He is the co-author of The Language of Sex and From Anger to Intimacy with Dr. Gary Smalley. Ted is a graduate of Liberty University and Dallas Theological Seminary. Married for over thirteennbsp;years to his wife, Amy, they have two wonderful children, Corynn and Carson.