From the Cross to Pentecost (Unabridged, 5 Cds)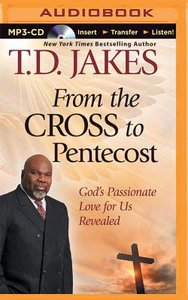 GOD'S PASSIONATE LOVE FOR US REVEALED
:?What is the relevancy of the Cross of Jesus Christ? What does it matter that Christ died on a Cross and rose from the dead over two thousand years ago? How does His Cross add any value to my life and to who I am and to who I want to be?? Perhaps it?s a question you?ve asked yourself or someone else and never received an answer that you considered to be satisfactory. If that?s the case, T. D. Jakes will answer your question once and for all, but not in the way you might be expecting. As a master storyteller and powerful biblical expositor, the Bishop shines a light on how the tragic Fall of mankind blocked access to the tree of life, yet how God grants us access to eternal life through the sacrifice of Jesus Christ on the Cross, opening the way to receive God?s abundant life through the outpouring of the Holy Spirit on Pentecost. Discover the Savior?s passion as expressed through the Old Testament Passover that must be experienced before one can receive the fullness of the Holy Spirit in power!

- Publisher
You May Also Be Interested In
About "From the Cross to Pentecost (Unabridged, 5 Cds)"
:?What is the relevancy of the Cross of Jesus Christ? What does it matter that Christ died on a Cross and rose from the dead over two thousand years ago? How does His Cross add any value to my life and to who I am and to who I want to be?? Perhaps it?s a question you?ve asked yourself or someone else and never received an answer that you considered to be satisfactory. If that?s the case, T. D. Jakes will answer your question once and for all, but not in the way you might be expecting. As a master storyteller and powerful biblical expositor, the Bishop shines a light on how the tragic Fall of mankind blocked access to the tree of life, yet how God grants us access to eternal life through the sacrifice of Jesus Christ on the Cross, opening the way to receive God?s abundant life through the outpouring of the Holy Spirit on Pentecost. Discover the Savior?s passion as expressed through the Old Testament Passover that must be experienced before one can receive the fullness of the Holy Spirit in power!
- Publisher


Meet the Author
T D Jakes
Ministerial and business visionary, entrepreneurial trailblazer, altruistic philanthropist and spiritual shepherd to millions around the globe, Bishop T.D. Jakes is the senior pastor and founder of the Potter's House, a multi-racial, non-denominational church, located in Dallas, Texas. In 1996 this church was established with just 50 families and now 28,000 attend the Potter's House, what Christianity Today calls one of Americas fastest growing mega-churches. Bishop Jakes is also a highly celebrated author with several best-selling books. He frequently ministers in massive crusades and conferences across America, and his television show is widely viewed in millions of homes around the world. He was named in February 2005 Time Magazine as one of "The 25 Most Influential Evangelicals in America". - Publisher.