From the Start (#01 in Walker Family Series)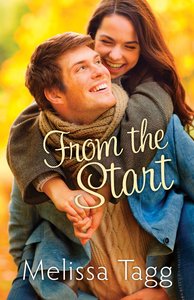 :New Contemporary Romance Sure
to Make Readers Laugh and Sigh

Kate Walker used to believe in true love and happily-ever-after before a short-lived engagement left her brokenhearted. At least her disillusionment with romance hasn't kept her from churning out made-for-TV screenplays and fluffy novels. That is, until a major career slump sends her running home to her father and the town of Maple Valley. Her plan to help her dad write his memoir while she figures out where to go next takes a surprising turn when she finds new inspiration in the most unexpected person.

After an injury permanently sidelines NFL player Colton Greene, he is temporarily hiding out in a friend's small town to avoid the media and reminders of the betrayal that led to his career's end. Maple Valley is conveniently also the perfect place to prove to his former girlfriend that he's ready to settle down and lead a normal life. The only trouble is that he's never really done normal before and has no idea where to start.

Fast friends, Kate and Colton both get what it's like to need new direction in life. But while Kate plays things safe, Colton is all about big risks and grand gestures. Neither of them has any intention of giving up on their goals...unless being forced to start over could be their chance at a life--and love--that tops all of their dreams.

- Publisher
You May Also Be Interested In
About "From the Start (#01 in Walker Family Series)"
:New Contemporary Romance Sure
to Make Readers Laugh and Sigh

Kate Walker used to believe in true love and happily-ever-after before a short-lived engagement left her brokenhearted. At least her disillusionment with romance hasn't kept her from churning out made-for-TV screenplays and fluffy novels. That is, until a major career slump sends her running home to her father and the town of Maple Valley. Her plan to help her dad write his memoir while she figures out where to go next takes a surprising turn when she finds new inspiration in the most unexpected person.

After an injury permanently sidelines NFL player Colton Greene, he is temporarily hiding out in a friend's small town to avoid the media and reminders of the betrayal that led to his career's end. Maple Valley is conveniently also the perfect place to prove to his former girlfriend that he's ready to settle down and lead a normal life. The only trouble is that he's never really done normal before and has no idea where to start.

Fast friends, Kate and Colton both get what it's like to need new direction in life. But while Kate plays things safe, Colton is all about big risks and grand gestures. Neither of them has any intention of giving up on their goals...unless being forced to start over could be their chance at a life--and love--that tops all of their dreams.
- Publisher


Meet the Author
Melissa Tagg
Melissa Tagg is a former reporter and total Iowa girl. In addition to her homeless ministry day job, she is also the marketing/events coordinator for My Book Therapy, a craft-and-coaching community for writers. When she's not writing, she can be found hanging out with the coolest family ever, watching old movies, and daydreaming about her next book. She's passionate about humor, grace, and happy endings. Melissa blogs regularly and loves connecting with readers at www.melissatagg.com. A
Customer Reviews For "From the Start (#01 in Walker Family Series)"
Write Your Own Review
Familiar
By becinchina,

May 28 2018
I think I might have read a teaser before because the opening seemed so familiar, but I enjoyed the ensuing completion of the story with all its twists and turns.
---
Falling In Love
By Olivia,

May 05 2018
I fell in love with this book the characters that made the story were enjoyable to read about. Kate thought she had her life planned out but when she returns home because of her father her life changes into Gods plan for her but she doesn't know it. Colton was very interesting to read about his character changes when he meets Kate does he find God though? I don't want to give to much away but if you like a good Christian romance story then this is book is for you! 
---
Tranquility
By Johanna,

Nov 21 2016
Should I or shouldn't I? This was the battle raging on inside me every time I passed this book at the store. Thing is, Melissa is a new author for me. Is the risk worth it? Well, you'll never know if you don't try, I told myself. I have just had the best 3 days of my life with the greatest distraction in hand. Be prepared for a journey with the Walker family. 
Love the Susan May Warren's Christiansen Family? Then it's guaranteed you'll love this book. Melissa introduces us to the Walker family - a family who, although having experienced loss and heart-break, stick together and support each other despite their differences. Tranquillity. Home. Safety. Belonging. Maple Valley gives hope to everyone.
Down to earth, realistic, and relatable characters. Sincerity is difficult to capture on paper, yet Tagg  does just that without being swept up in the too-good-to-be-true loop. 

---
The Walker Family!
By Rochelle, NSW,

Apr 14 2016
I'm really enjoying the easy read of Melissa Tagg's writing. Not to say that the story isn't without it's tension and heart tug.
Was great to meet Kate Walker and Colton Greene and a great cast of support characters.
To read the goings on of Maple Valley (think of pancakes every time!!) and experience the great sense of community in this little town.
Their story is one of trauma and hurt that has derailed them for a time. It's great to see the love and wisdom of those around them start to bring about courage and direction and purpose.
You'll enjoy their story I think.
Looking forward to reading #2 Like never Before

---
Absorbing and Wonderful
By Jacqui,

Oct 01 2015
I fell in love with this small town and its characters. I wanted to move there too and be enfolded into the community and grow in faith with them. I loved the families and how real they were. I loved the obvious love among them and how they walked through the hard bits together. The relationship between Kate and Colton is a beautiful blend of romance and tension. I learnt so much as I journeyed with them about faith and God's will.  The great thing is that this is book one. I can't wait to journey further with this family.
{{review.title}}
By {{review.author.name}},

{{review.reviewCreatedDate | date:'MMM dd yyyy'}}

{{reviewdescription}}
{{review.text}}
---
Other Titles In The "Walker Family Series" Series